SEE GANNON'S SPEECH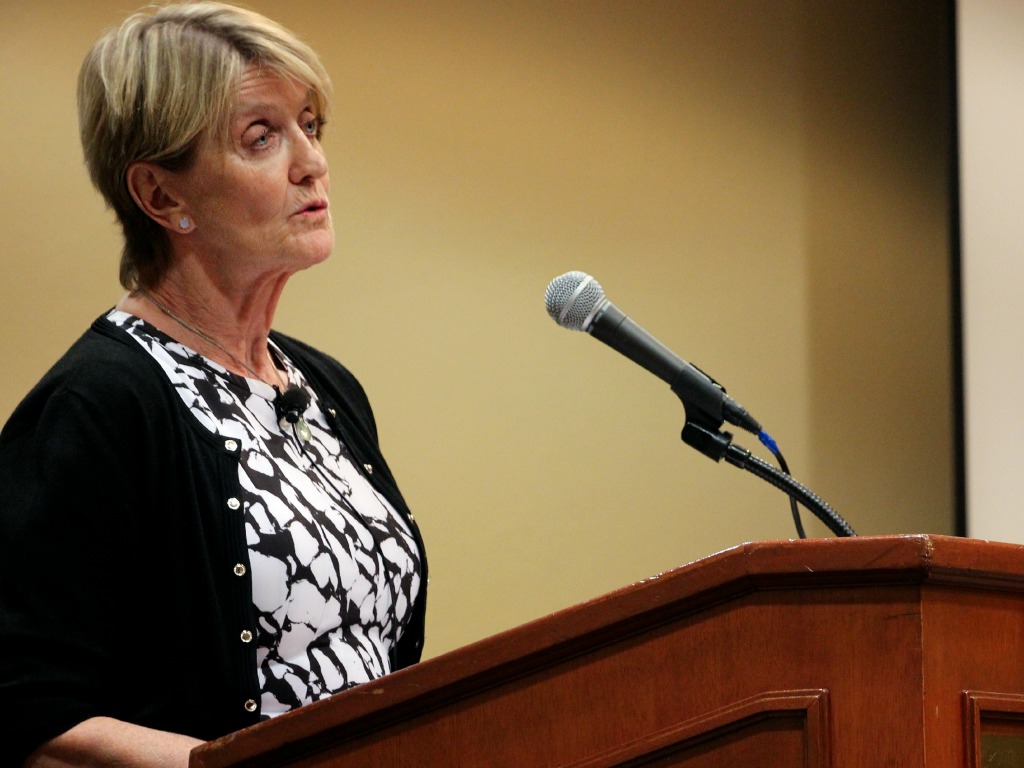 With the Islamic State and other dangers, AP foreign correspondent Kathy Gannon calls it a "brutal time for journalists," after accepting the School of Journalism's Zenger Freedom of the Press Award. Click here for her speech.
SEE GANNON'S Q-AND-A
The AP reporter says she wants to return to Afghanistan to thank the doctor who saved her life. She also tells the audience how she became a reporter and what she thinks of the U.S. involvement in the country, in a Q-and-A with Arizona Public Media reporter Mariana Dale ('14) and School of Journalism Director David Cuillier. Click here for the discussion.
Associated Press foreign correspondent Kathy Gannon, who is poised to return to Afghanistan despite being badly wounded there in an attack, has received the 2015 John Peter and Anna Catherine Zenger Freedom of the Press Award.
While covering the 2014 Afghan elections, Gannon and AP photographer Anja Niedringhaus were shot by an Afghan police commander. Gannon spent months recovering from her injuries. Niedringhaus, 48, died at the scene.
Gannon said she is honored to receive the Zenger Award, given annually since 1954 by the University of Arizona School of Journalism.
"The award reminds me of the past sacrifices that have been made in the name of press freedom," Gannon said, "and the responsibility we bear as reporters to respect those sacrifices by doing our job.
"The job we do as reporters is to ask the tough questions, to not let governments dictate the conversation and remember that we are not advocates but recorders of history."
Gannon, 61, spent more than 18 years reporting from the front lines in Afghanistan, and served as Associated Press regional chief. She won the International Women's Media Foundation Courage in Journalism Award in 2002 and received an Edward R. Murrow fellowship from the Council of Foreign Relations in 2003.
She is the author of "I is for Infidel: From Holy War to Holy Terror in Afghanistan," published in 2005.
"Press freedom is under attack in both the developing and developed world," Gannon said. "Dictators and democracies have played with press freedom. Sometimes it is subtle and other times not so much."
Despite several reconstruction surgeries on her left arm, Gannon has vowed to return to reporting from the Afghanistan-Pakistan region after she is cleared by doctors.
"There are stories left untold," Gannon told the Canadian CBC News. "I don't want to be held hostage to this shooting.
"I don't want it to define my future."
Gannon took six bullets through her left arm, left shoulder and right hand in April 2014.
She and Niedringhaus had just arrived in a car at a heavily guarded district compound and were waiting for a convoy to move forward when a unit commander namedf Naqibullah "walked up to the car, yelled 'Allahu anjaAkbar' (God is Great) and opened fire on them in the back seat with his AK-47," according to the AP report. An Afghan court sentenced the commander to 20 years in prison.
Gannon was honored at this year's Zenger reception and dinner on Oct. 23 with her husband, Pakistani architect and art gallery owner Naeem Pasha, by her side. Niedringhaus was honored the night before at a reception for an exhibit of her photos at the Union Gallery in the UA Student Union. The exhibit will continue through Nov. 6.
Previous Zenger Award winners:
2014 — Paul Steiger, ProPublica
2013 — Jonathan Randal, global reporter
2012 — Rocío Gallegos Rodriguez and Sandra Rodríguez Nieto
2009 — Tom Arviso Jr., Navajo Times
2007 — Jerry Mitchell, Mississippi Clarion-Ledger
2005 — Bill Moyers, Broadcast Journalist
2003 — Vanessa Leggett, Lecturer and free lance writer
2001 — Lou Boccardi and The Associated Press
2000 — Paul K. McMasters, The Freedom Forum
1998 — U.S. Senator Patrick Leahy, D-Vermont
1997 — Mark Goodman, Student Press Law Center
1996 — Nat Hentoff, Washington Post
1995 — Ben Bagdikian, media scholar
1994 — Investigative Reporters & Editors
1993 — Jane E. Kirtley, Reporters Committee for Freedom of the Press
1992 — Helen Thomas, United Press International
1991 — Peter Arnett, Cable News Network
1990 — Terry A. Anderson, The Associated Press
1989 — Robert C. Maynard, The Oakland Tribune
1988 — Jean H. Otto, The Rocky Mountain News
1987 — Eugene L. Roberts Jr., The Philadelphia Inquirer
1986 — John R. Finnegan, St. Paul (Minn.)Pioneer Press & Dispatch
1985 — Thomas Winship, The Boston Globe
1984 — Tom Wicker, The New York Times
1982 — Fred W. Friendly, Columbia Graduate School of Journalism
1981 — Paul S. Cousley, Alton (Ill.) Telegraph
1980 — Walter Cronkite, CBS
1979 — Jack C. Landau, Reporters Committee for Freedom of the Press
1978 — Robert H. Estabrook, Lakeville (Conn.) Journal
1977 — Robert W. Greene, Newsday
1976 — Donald F. Bolles, The Arizona Republic
1975 — Seymour M. Hersh, The New York Times
1974 — Thomas E. Gish, The Mountain Eagle
1973 — Katharine Graham, The Washington Post
1972 — Dan Hicks Jr., Monroe County Democrat
1971 — The New York Times
1970 — Erwin D. Canham, The Christian Science Monitor
1969 — J. Edward Murray, The Arizona Republic
1968 — Wes Gallagher, The Associated Press
1967 — John S. Knight, Knight Newspapers, Inc.
1966 — Arthur Krock, The New York Times
1965 — Eugene C. Pulliam, The Arizona Republic and Phoenix Gazette
1964 — John Netherland Heiskell, Arkansas Gazette
1963 — James B. Reston, The New York Times
1962 — John H. Colburn, Richmond (Va.) Times-Dispatch
1961 — Clark R. Mollenhoff, Cowles Publications
1960 — Virgil M. Newton Jr., Tampa (Fla.) Tribune
1959 — Herbert Brucker, Hartford Courant
1958 — John Moss, U.S. House Govermental Information Subcommittee
1957 — James R. Wiggins, The Washington (D.C.) Post and Times Herald
1956 — James S. Pope, Louisville Courier Journal
1955 — Basil L. Walters, Chicago Daily News & Knight Newspapers
1954 — E. Palmer Hoyt, The Denver Post