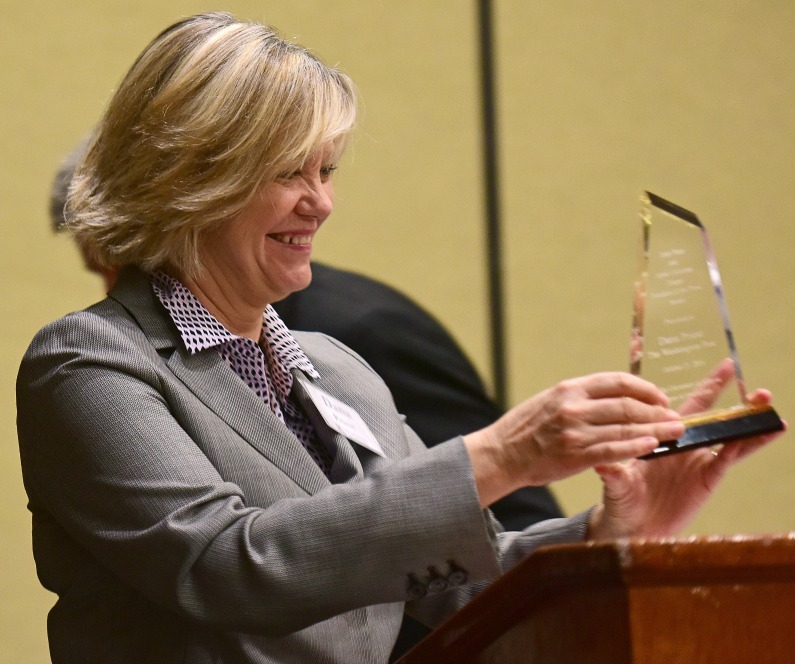 Dana Priest of the Washington Post accepts the school's 2016 Zenger Award for Press Freedom at the Westward Look.
• Watch her acceptance speech
• See Q&A with audience, emcee Montoya
• See a slideshow from the dinner.
• Read another Q&A with Priest.
• See interview with Arizona Public Media on Russian hacking (21:50 mark)
• "Press Uncuffed" website for imprisoned journalists.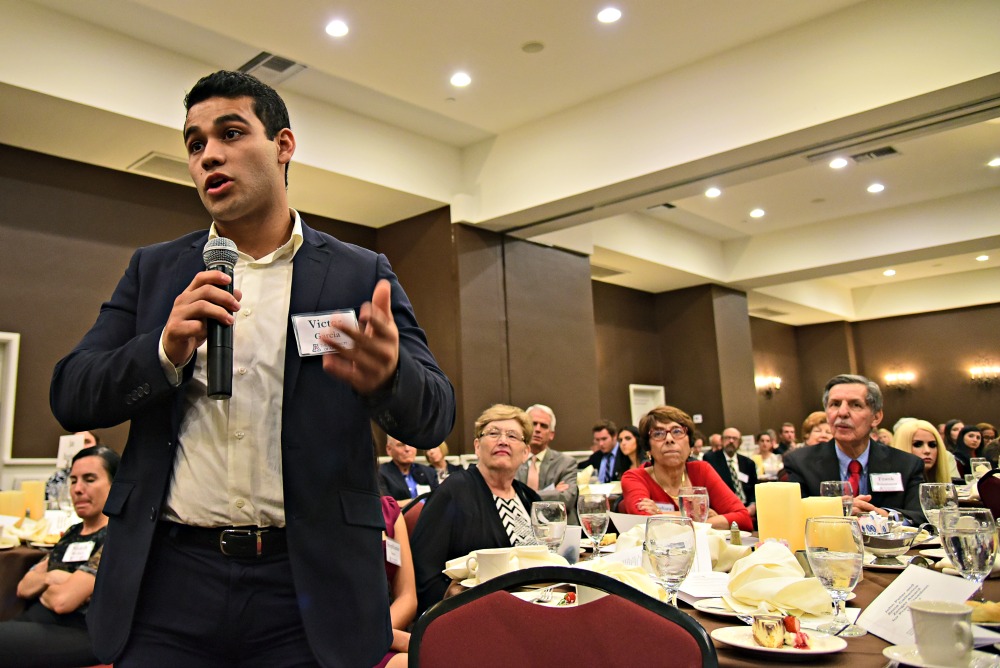 Student Victor Garcia asks Dana Priest a question.
Washington Post reporter Dana Priest inspired students, donors and faculty alike in receiving the Zenger Award for Press Freedom, then the two-time Pulitzer Prize winner talked about a bold partnership with the University of Arizona School of Journalism.
Priest, who accepted the Zenger award at a gala dinner at the Westward Look Resort on Oct. 21, hopes to collaborate with students and faculty here to bring more attention to the number of journalists being killed in Mexico — and the "growing news deserts here in the U.S., mainly because of market forces, and the demise of independent media overseas brought on by autocratic regimes."
"We have to think of more creative ways to get people to understand that right across our border is terrorism — as brutal and violent as anything ISIS has done," she said.
Priest hopes the school can assist her students at the University of Maryland with a proposed website called "Blackout," to publish original stories about the attack on independent news media here and abroad. Earlier, her students began a "Press Uncuffed" bracelet campaign to help the Committee to Protect Journalists try to gain the release of imprisoned journalists across the world. Four journalists have been freed so far.
In her speech, Priest recounted her Pulitzer Prize-winning stories on the deplorable treatment of veterans and secret CIA prisons, saying she felt close to the Zenger Award because "there were people after I wrote the story about the 'black site' prisons who really wanted to charge me with sedition (like John Peter Zenger) ... and treat me like a traitor."
Priest said she enjoyed talking to UA students, who had "great, sophisticated questions." She also attended an Oct. 20 mixer at the Marriott, sponsored by the school's Center for Border & Global Journalism.
Nancy Montoya of Arizona Public Media emceed the Zenger dinner and introduced Priest. School of Journalism Director David Cuillier presented the award, which has been handed out by the school since 1954.
Priest ended her speech with a hopeful message.
"Students nowadays have technology skills that we never had — and I'm not going to learn now," Priest said. "If we can convince them of the value, the fun, the reward and the power in becoming good beat reporters, they will become the best generation of journalists yet."