Michelle Jaquette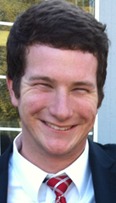 Drew Gyorke
UA journalism student Michelle Jaquette captured first place in the fall 2016 Drew Gyorke Memorial Fund Photo Contest for her image of a Wildcat volleyball match.
Elizabeth Kinney took second place with a photo of the Iraq Veterans Memorial, and Carmen Valencia finished third with an image of former U.S. Rep. Gabrielle Giffords.
The contest featured 12 photos from professor Kim Newton's JOUR 203 class. All 12 of the images will hang on the School of Journalism hallway wall in front of Newton's office (Marshall 327).
Drew Gyorke, an adventurer and aspiring photojournalist at UA, died his junior year in a May 2013 car accident.
The endowed award named after him recognizes the best beginning photojournalism students. (Click HERE to see past winners and photos since 2013.)
Jaquette will receive $200, with Kinney receiving $125 and Valencia $75.
The other photos are by Xiara Rodriguez, Megan Lange, Lorren Walker, Allison De Fina, Jordan Treece, Haylie Lovelace, Robby Leano and Octavio Lopez.
Valencia also had a second photo that did not place in the top three.
Here are the 12 images:

FIRST PLACE: University of Arizona's Kalei Mau sends a shot over University of California at Los Angeles players during the first set of a game at McKale Center on Friday, Nov. 4, 2016 in Tucson. The Cats defeated the Bruins in three sets. (Photo by Michelle Jaquette) COPYRIGHT:© Michelle Jaquette 2016

Sally Hartmen describes the veterans memorial to pedestrians on Santa Monica Beach, Calif. on Friday Nov. 11 2016. Sally works with Arlignton West Santa Monica, an organization of families who have lost a loved one due to war. (Photo by Elizabeth Kinney) COPYRIGHT: ©Elizabeth Kinney 2016

Gabrielle Giffords, a former Arizona congresswoman, speaks to students at Sunnyside High School while campaigning for Democratic presidential candidate Hillary Clinton in Tucson on Thursday, Nov. 3, 2016. The presidential election will take place on Tuesday, Nov. 8, 2016. (Photo by Carmen Valencia). COPYRIGHT: © Carmen Valencia 2016

Gaby Marte, intern at the Women's Resource Center is pictured in the WRC lounge on Monday, Oct. 17, 2016 in Tucson. Mate is also an active member of the FORCE, a feminist group at the University of Arizona. (Photo by Xiara Rodriguez). COPYRIGHT: © Xiara Rodriguez 2016

Ellie Lippel, co-owner of Woops Bakery on University Blvd. poses for an environmental portrait at the bakery in Tucson on Friday, Oct. 14, 2016. Ellie and her sister Naomi brought the company from New York. (Photo by Megan Lange). COPYRIGHT: © Megan Lange 2016

Jacquelyn Martin, waitress at the B-Line restaurant, poses in front of the menu on Tuesday, Oct. 18, 2016 in Tucson. Martin has been working at the B-Line for over a year and enjoys the famous chocolate creme pie. (Photo by Lorren Walker). COPYRIGHT: © Lorren Walker

Richard Murphy enjoys a Veteran's Day classic car show in Tucson on Saturday, Nov. 12, 2016 at Tucson Speedway. Murphy has two classic cars of his own. (Photo by Allison De Fina). COPYRIGHT: © Allison De Fina

Jarod Peck, center, a Junior at Mountain View High School does a tail whip on his BMX bike on Monday, Oct. 10, 2016 at the Premises Skate/BMX Park in Tucson. Peck is a dedicated BMX rider who is looking to obtain a sponsorship. (Photo by Jordan Treece). COPYRIGHT: © Jordan Treece.

Members of the Mountain Ridge High School marching band, from left to right, Michael Gerber, 16, Taj Reddy, 17, and Ben Gonzalez, 17, hold up the American flag used in their marching show while awaiting their results at the ABODA State Championship marching competition in Phoenix on Saturday, Nov. 12, 2016. Their show is entitled "Fallen but Never Forgotten" and is an ode to all fallen military men and women. (Photo by Haylie Lovelace). COPYRIGHT: © Haylie Lovelace 2016

Arizona Wildcat Forward Dillon Ballsamo, left, challenges Nick Zern of Minot State University at the Tucson Convention Center in Tucson on Thursday, Nov. 3, 2016. Minot State defeated Arizona by a score of 6-2. (Photo by Robby Leano). COPYRIGHT: © Robby Leano 2016

Devon Brown practices bowling technique on Tuesday, Nov. 8, 2016 at Lucky Strike Bowl in Tucson, Ariz. Devon has been bowling for twenty years and in a bowling league for ten years. (Photo by Octavio Lopez). COPYRIGHT:© Octavio Lopez

Mark Barton, defensive line for the University of Arizona football team attempts to tackle University of Southern California Trojan Terrence Alexander during family weekend at Arizona Stadium in Tucson on Saturday, Oct. 15, 2016. for the victory on family weekend at the Arizona Stadium in Tucson, Ariz. USC beat Arizona 48-14. (Photo by Carmen Valencia). COPYRIGHT: © Carmen Valencia 2016