Nels Bergeron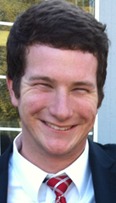 Drew Gyorke
UA journalism student Nels Bergeron captured first place in the spring 2017 Drew Gyorke Memorial Fund Photo Contest for his image of a homeless man in front of a Wells Fargo bank.
Simon Garelick-Mettler took second place with a photo of Arizona basketball player Kadeem Allen being fouled, and Cory Kennedy finished third with an image of a bungee jumper.
The contest featured 12 finalists from Professor Kim Newton's JOUR 203 photography class. All 12 of their images will hang on the School of Journalism hallway wall in front of Newton's office (Marshall 327).
Drew Gyorke, an adventurer and aspiring photojournalist at UA, died his junior year in a May 2013 car accident.
The endowed award named after him recognizes the best beginning photojournalism students. (Click 
HERE
 to see past winners and photos since 2013).
Bergeron will receive $200, with Garelick-Mettler receiving $125 and Kennedy $75.
The other finalists are: Katie Fletcher, Addie Stansbury, Tommy Kearn, Sienna Leone, Gabbi Sam, Victor Garcia, Michaela Webb, Pearl Dixon and Jiaqi Gao.
Here are the 12 images:

FIRST PLACE: Christopher Brooks, a homeless man, lies on the ground outside a Wells Fargo bank in Tucson on Sunday, Feb. 26, 2017. Brooks is from New York, where he lived for the majority of his youth. (Photograph by Nels Bergeron)

SECOND PLACE: University of Arizona's Kadeem Allen is fouled by Arizona State's Shannon Evans II during the UA-ASU Mens Basketball game in the Wells Fargo Arena in Tempe on Saturday, March 4, 2017. The UA won 73-60. (Photograph by Simon Garelick-Mettler)
THIRD PLACE: Kaitlyn Bell bungee jumps during the University of Arizona's annual Spring Fling on Saturday, April 8, 2017 in Tucson. The bungee jump platform is130 feet off the ground. (Photograph by Cory Kennedy)

A man, who calls himself Triple X, protests against recent Syrian missile strikes in front of the White House in Washington, D.C. on Friday, April 7, 2017. President Trump ordered the strike in retaliation for what was believed to be a chemical weapons attack by the government of Syrian President Bashar al-Assad. (Photography by Kaite Fletcher)

Urbane resident, Liam Critchley, waits outside of his apartment building for an Uber driver in Tucson on Monday, Feb. 20, 2017. Critchley is a student at the University of Arizona and is majoring in Retailing and Consumer Sciences. (Photograph by Addie Stansbury)

A woman walks her dog through the Fourth Street tunnel in Tucson on Thursday, Feb. 23, 2016. The woman was on her way to meet up with friends. (Photograph by Tommy Kearn)

Mia V, left, and Tess Brewer, students at Sun Valley High School, sit outside of the Chocolate Iguana cafe after school in Tucson on Tuesday, Feb. 21, 2017. They are both drama students at Sun Valley High School. (Photograph by Sienna Leone)

Dave Singer pulls his cart of beach gear with his two daughters, Alana and Tyla following close behind on Saturday, Feb. 25, 2017, in Delray Beach, Fla.  (Photograph by Gabbi Sami)

Maya Kendrick, 19, holds her drawing of an aging young man in her studio on Tuesday, March. 7, 2017 in Tucson. Kendrick is a freelance artist and is now taking courses in Pima Community College. (Photograph by Victor Garcia)

Jessica Harris, an employee of the University of Arizona Compost Cats and a senior studying sociology at the University of Arizona, poses in front of a tractor and a pile of compost at the San Xavier Coop Farm in Tucson on Wednesday, March 1, 2017. Compost Cats is a student-run compost operation that has diverted over 15 million pounds of material from the landfill since its inception in 2011. (Photo by Michaela Webb)

University of Arizona's Lauri Markkanen, 19, dunks during a game against UCLA at the McKale Memorial Center on Saturday, Feb. 25, 2017 in Tucson. UA lost to UCLA 77-72. (Photograph by Pearl Dixon)

University of Arizona women's softball player Mo Mercado hits the ball during their game against Stanford at Hillenbrand Stadium in Tucson on Friday, April 7, 2017. Arizona beat Stanford 20-1. (Photograph by Jiaqi Gao)