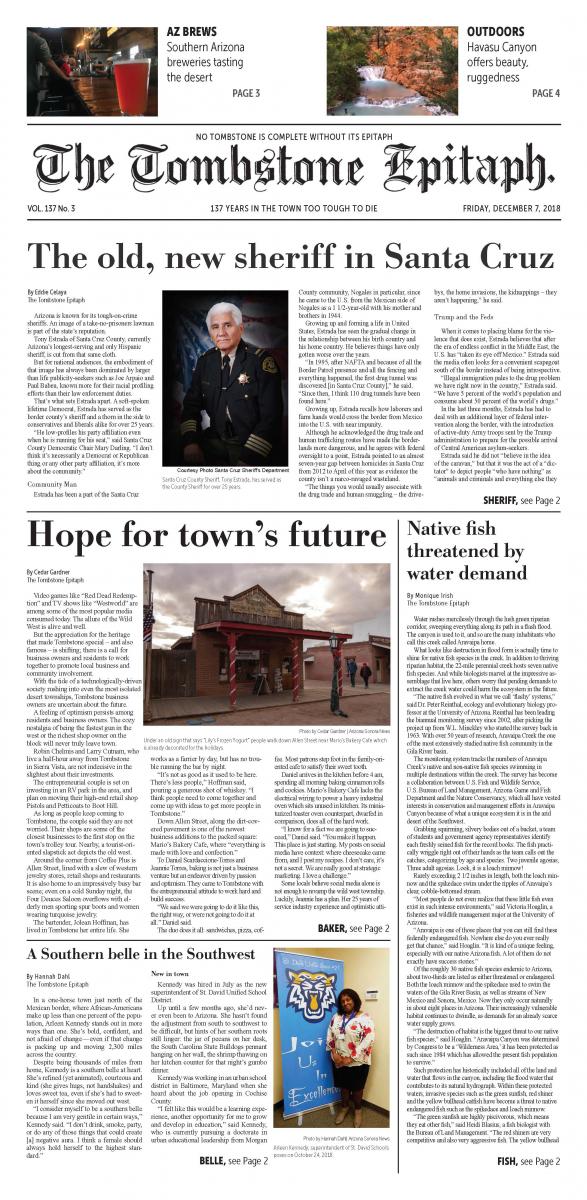 * Dec. 7, 2018, issue (above)
• Go to The Epitaph website

Read President Ford's letter to the Epitaph in 1976.
They call Tombstone "the town too tough to die," and for more than a century, The Tombstone Epitaph has been part of the area's colorful history. Students have produced the local edition since 1975 as part of the Community Journalism class.
Epitaph staffers have won Arizona Newspapers Association awards for feature writing; photography; and sustained coverage, for their reporting about the Minutemen Project's activities on the U.S.-Mexico border. Students were in competition with professional journalists working for community newspapers throughout Arizona.
"When Publisher Harold Love planned to drop the Epitaph in favor of a historical journal in 1975, I grabbed the opportunity to let our students take over and continue publishing the local edition," said George Ridge, director of the school from 1972-78 and 1985-91. "At first, we used the old Epitaph office. But the students hated it. It felt like a museum. They wanted to be out roaming the streets.
"In general, they had to be accepted by the town. People resisted at first, but came around. At the time, we were the only journalism department publishing a community newspaper 70 miles from campus. President Ford congratulated us on the paper's 96th anniversary. It was probably the best publicity we ever got."
The Epitaph is now published four or five times during the fall and spring academic semesters. It's distributed in specific locations throughout southern Arizona and is available online.
You can read the current edition of The Tombstone Epitaph by clicking on the frontpage at the right or reading it online at Arizona Sonora News.
We also have an archive of our previous issues.
Questions or comments? Contact The Tombstone Epitaph