• For fall: Rolling deadline, preferably by Feb. 15
• For spring: Rolling deadline, preferably by Aug. 1 for international students or Sept. 1 for domestic students.
ALUM SPOTLIGHT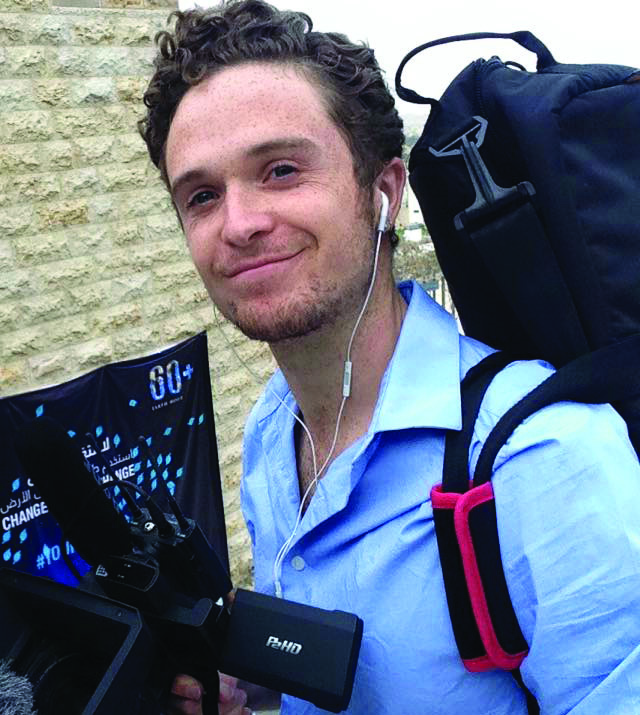 Sam McNeil (2014)
Video Journalist, Associated Press, Beijing
"All of the skills I picked up from colleagues and mentors at the University of Arizona are being tested and honed now in Beijing working for The Associated Press as a staff video journalist. Whether diving the Great Barrier Reef, with Syrian rebels in Turkey, in the middle of the Dead Sea, in a Sufi monsoon ceremony in Oman, or atop a glacier in China, these vital tools are both the learned 'hard skills' like Terry Wimmer's reporting methodology and ethic, Kim Newton's clever visual storytelling, Aomar Boum's deep reading, and Leila Hudson's critical analysis, to the 'softer skills' of Maggy Zanger's leadership and Mort Rosenblum's dogged persistence. You have to know how to talk to, work with, and learn from everyone as a journalist, so the greater the depth of people you call educators the greater the depth of your work.
"Working through the structure of the UA's dual MA program in Middle East and North African studies and Journalism was an effective mix of the practical and the theoretical — both reinforce the curiosity, respect and diligence of our craft. I'd be rudderless without the combination."
Cathy Rosenberg (2015)
The title of her master's project was "Return to the Wild," and is "a study of the restoration of endangered, threatened, or dwindling wildlife species in Arizona."
Watch Rosenberg's multimedia project
What Can We Offer You?
Journalism for You. We're passionate about journalism. We offer classes in reporting, writing, multimedia, theory, media analysis, law and ethics. We don't teach advertising or public relations.
The Border, the World. Our students report from the Mexican border, just 60 miles away, as well as the Middle East and Latin America.
Science and Environmental Journalism. You can specialize in communicating about science and the environment through words, photographs, infographics and multimedia. The University of Arizona is home to the world-renowned Institute of the Environment, a medical center, the Bio5 Institute, Biosphere 2 and the Mt. Lemmon SkyCenter. The university is also a science powerhouse, with state-of-the-art research facilities and top programs in geosciences, astronomy, climate change, ecology and evolutionary biology, tree-ring research and more.
Dual Degrees. Double your options with a dual degree in journalism and one of five different programs: Legal Studies, Latin American Studies; Middle Eastern and North African Studies; Public Administration; or Soil, Water and Environmental Science.
Graduate Specialties. You can add a specialty to your diploma and transcript in Digital Journalism, Global Journalism, or Science and Environmental Journalism. Click here for details.
Zenger Fellowship. Each year the School of Journalism awards the John Peter and Anna Catherine Zenger Fellowship to an incoming master's student in recognition of academic achievement and potential. The fellowship covers the student's in-state tuition, mandatory fees and program fees up to 12 units per semester for the first academic year and possibly the second academic year, based on academic and other factors. Click HERE for more info.
Inspirational Faculty. Work alongside award-winning professors who have been professional journalists around the globe. They have significant professional experience at The New York Times, National Geographic, Associated Press and television news stations as well as through Pulitzer Prize-winning investigative reporting projects.
Research Excellence. In 2017 four master's students presented their thesis research at the annual national conference of the Association for Education in Journalism and Mass Communication. One of the students won a top paper award.
Real-World Experience.
 Learn by doing with hands-on skills classes, apprenticeships, internships in media outlets around the country and study-abroad classes in Oman and Dubai, Italy and Costa Rica. After taking two multimedia classes, a graduate student found an amazing internship at WIRED magazine. Another student produced a documentary about the University of Arizona's role in landing a man on the moon:
http://desertmoonfilm.com
Southern Arizona. The Tucson area is an ideal place to study, live and explore. Everything is here—from the colorful Sonoran Desert to subalpine forests and from archaeological sites to national parks. Many people are lucky enough to vacation here. You can live and study here.
Want to learn more?
Application deadline
• For fall: Rolling deadline, preferably by Feb. 15
• For spring: Rolling deadline, preferably by Aug. 1 for international students or Sept. 1 for domestic students.