Until further notice, the University of Arizona, in accordance with the guidelines recommended by the Centers for Disease Control and Prevention, encourages all employees to work remotely. Our offices are closed to the public, but you can reach the School of Journalism Monday–Friday 9am-5pm:
Get COVID-19 updates and information for the University of Arizona community. Also, see SBS resources for continuing instruction and learning.
Albright, Sinek win 2018-19 Finley news writing awards
April 16, 2019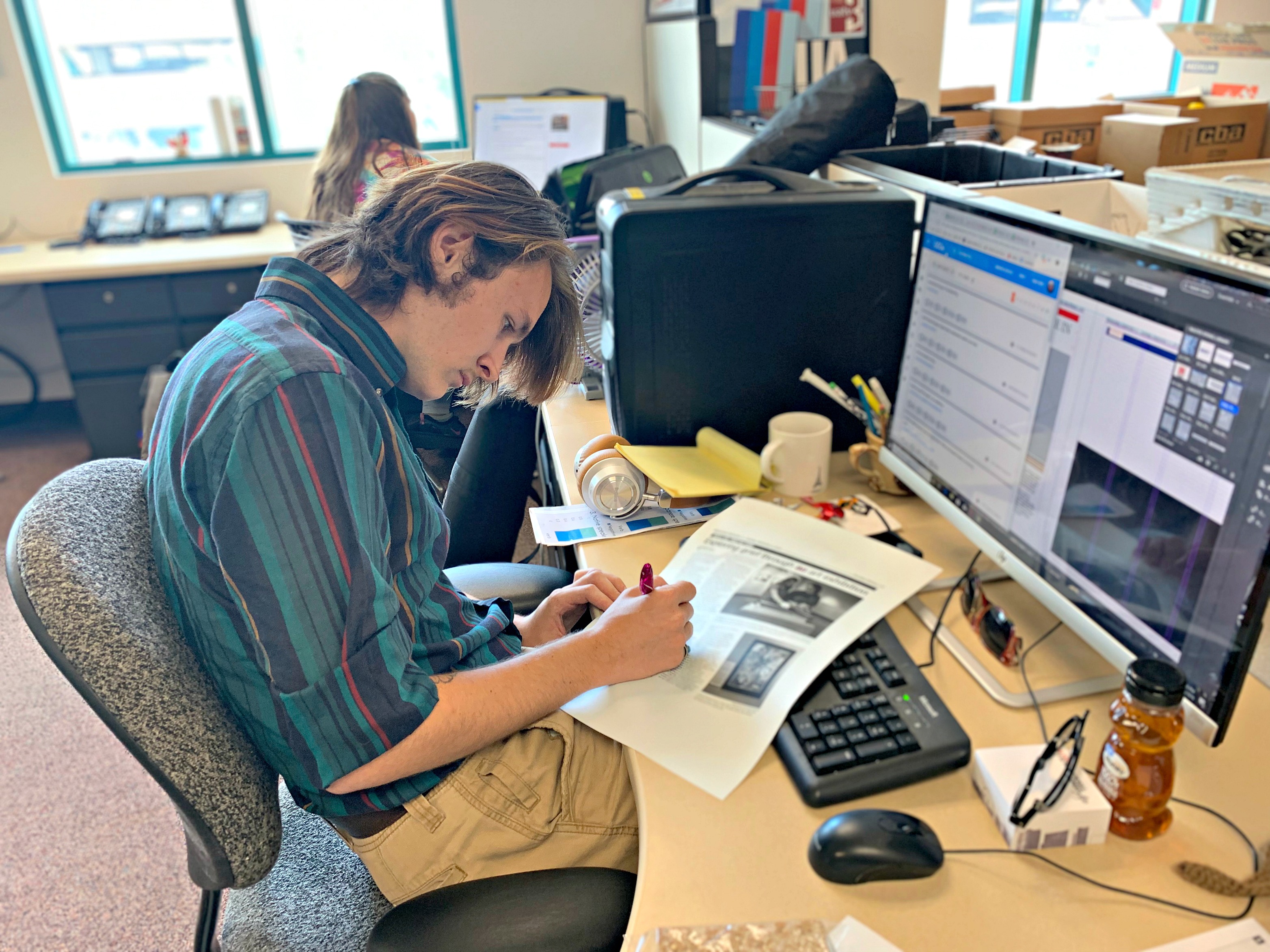 Pascal Albright and Quincy Sinek captured the Mark Finley Gold Pen Award in the University of Arizona School of Journalism's best beginning news writing contest for fall 2018 and spring 2019, respectively.
Twenty-two students selected by their JOUR 205 instructors competed in the April 10 contest.
In the fall 2018 contest, James Parisi finished second behind Albright and Jamie Donnelly placed third.
In the spring 2019 contest, Aiya Cancio finished second behind Sinek and Seth Markowski placed third.
Students had an hour to write a story after covering a news conference in the school's Marshall Building with Tucson Mayor Jonathan Rothschild, who spoke about the federally funded Community Schools initiative, now in its fifth year. The program brings Vista and AmeriCorps volunteers into high schools and middle schools to help students with college planning, health care, food assistance and tutoring.
Rothschild also answered questions about his decision not to seek another term, Tucson's economic future and his accomplishments.
Professors Nancy Sharkey, Susan Knight and Geoff Ellwand judged the competition.
The contest is named for the late Mark Finley, a UA grad who was a journalist and assistant to the publisher of Hearst's Boston newspaper for 17 years.
The first-place winners will receive $1,250 each in scholarship money, followed by $750 each for the runner-ups and $500 each for the third-place finishers.
The six students will be honored at the School of Journalism's Just Desserts event on May 8 from 4 to 6 p.m. at the Arizona Historical Society.
• Go to journalism.arizona.edu/finley/list to see past winners.
FALL 18 CONTEST
SPRING 18 CONTEST