Cuillier named National Freedom of Information Coalition president
April 16, 2019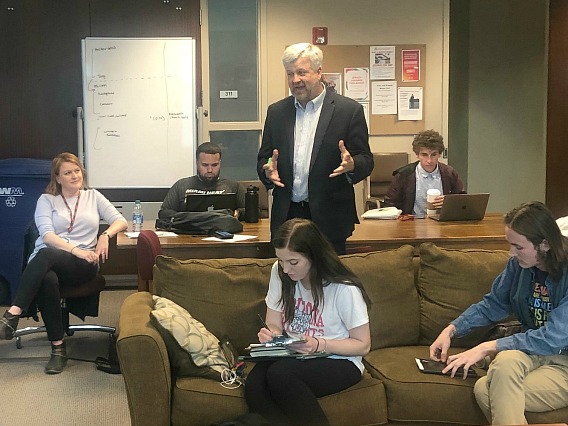 University of Arizona School of Journalism associate professor David Cuillier was elected president of the National Freedom of Information Coalition, an organization dedicated to fostering citizens' access to government records throughout the states.
Cuillier, who researches and teaches access to government information, was elected by the NFOIC board on Thursday at its annual meeting in Dallas, Texas, to lead the Florida-based nonprofit. The organization celebrates its 30th anniversary this year fostering government transparency and accountability by assisting state coalitions for open government, including the First Amendment Coalition of Arizona.
"As government secrecy continues to grow throughout the country, we need to work harder to educate the public, officials and journalists about their right to information that exposes problems and improves self-government," Cuillier said. "Democracy depends on it."
Cuillier, who has served on the NFOIC board for three years, has assisted state freedom of information coalitions since 2001. This year he coordinated a new transparency research competition through NFOIC, resulting in a dozen research studies presented at the Dallas conference on Friday. Topics included the effects of new government online public data portals, access to university police records, and availability of legislative records.
Also at the conference, Cuillier presented preliminary findings of a study he conducted on behalf of the John S. and James L. Knight Foundation mapping out trends in freedom of information in the United States, focusing on emerging groups and collaborations that can improve government transparency.
"As proxies for citizens, journalists have long championed access to government records," Cuillier said. "But as the news industry struggles to find a viable economic model, others will need to step up and help. Otherwise, secrecy will continue to spread throughout all levels of government, and before we know it we won't recognize our own country."
Cuillier, who was a newspaper reporter and editor before entering academia, has taught at the University of Arizona since 2006, including serving as school director 2011 through 2018. In 2013-14, he served as national president of the Society of Professional Journalists, and he is co-author of the "The Art of Access: Strategies for Acquiring Public Records," which will be published in its second edition this July.