Diversity champ, J-school friend Holden dies
April 18, 2020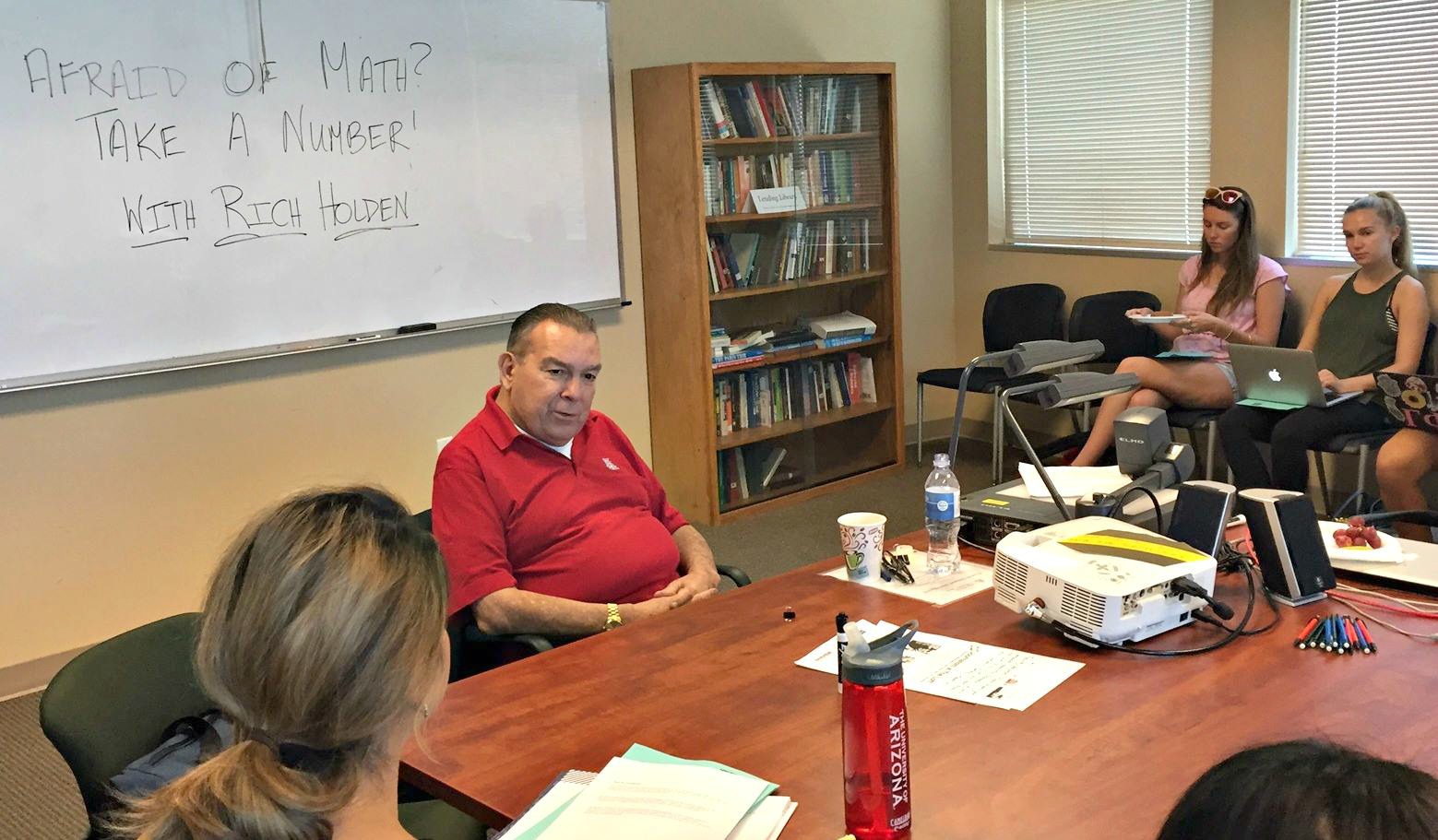 Richard S. Holden, a member of the University of Arizona School of Journalism's advisory council and one of the nation's leaders in bringing diversity to the newsroom, died April 15 after a lengthy illness. He was 70.
Holden spent 20 years teaching every summer at the Maynard Institute's Editing Program for Minority Journalists at the UA J-school, where he delivered his "Afraid of Math? Take a Number," and other lectures on journalism and editing.
He was a key member of the Save Journalism movement that prevented the closure of the UA journalism department in the 1990s, former Director Jacqueline Sharkey said.
"Rich was a fierce, outspoken and effective proponent for diversity efforts in the journalism business and journalism education," she said.
The editing program here placed journalists with diverse backgrounds in major news organizations around the country.
Holden also ensured financial support for the school's summer journalism diversity workshop for Arizona high school students as executive director of the Dow Jones News Fund. The workshop is now named after the late Donald W. Carson, director of the school from 1978 to 1985.
"Rich Holden was a dear friend. I will miss his humor and his dedication to producing first-class journalism," said Frank Sotomayor, a 1966 UA journalism graduate who was 1980 director of the Editing Program for Minority Journalists and served with Holden on the school's advisory council. "He could spot a grammar mistake, a misplaced comma or a math error a mile away."
When Holden was invited to UA In 1981 by Carson, he was the copy chief for the Wall Street Journal. Holden was joined in Tucson by the copy chief of the New York Times, Bill Connolly. Both were among a dedicated corps of editors who volunteered to teach in the program during an era when minorities and women held few jobs in print editing, Sotomayor said.
Holden taught and mentored dozens of minority editors from across the nation, some of whom later became top newspaper editors or publishers. After concentrating on the training of minorities, the program later was opened to all participants and became simply the Editing Program.
The program hired UA journalism students during summers to work as reporters for the program's newspaper. Among the students who took part in that role were Arizona Republic reporter John D'Anna ('83), ethics attorney Pat Sallen ('82) and St. Louis Post-Dispatch Editor Gilbert Bailon ('81).
"Rich was a mentor and a friend for 40 years," D'Anna said. "He taught me so many things, but above all I learned from him that it's possible to be a serious journalist without taking yourself too seriously. His humor, like his editing sense was razor sharp, and his love of puns was legendary."
Simply put, "he was a friend to journalists and journalism," said Abe Kwok ('89), an Arizona Republic opinion writer who worked with Holden in the editing program and at diversity conferences through the years.
Holden became executive director of the Dow Jones News Fund in 1992.
"Rich got to love Tucson despite its 100-degree-plus summer days, and he used two weeks' vacation to take part in the editing program," Sotomayor said. "He often stayed at the Arizona Inn, where he would dine and sip drinks and regale friends with his wide repertoire of funny stories."
Until his retirement in 2014, Holden provided funding each year for the school's summer high school diversity program. As such, through Dow Jones funding, he became one of the School of Journalism's largest financial supporters. He became a member of the Journalism Advisory Council and in recent years had transitioned to honorary membership in the council.
Born in St. Louis, Holden loved the University of Missouri, where he earned bachelor's and master's degrees in journalism, West Point football, history and his hometown, Madison, New Jersey, wrote the Dow Jones News Fund in its obit. Holden was a U.S. Air Force veteran, who retired as a captain of the reserves in 1988.
Holden is survived by his wife of 32 years, Mary-Anna, brother-in-law James LaRosa and his larger journalism community.
"It was a love for the editing craft and mentoring students to each's individual success that motivated him," said Mary-Anna, citing the thousands of college students who received paid professional summer internships through the Dow Jones News Fund internships; the training programs he developed for journalism professors at historically black colleges; and the editing excellence centers he established across the country.
Holden received the Gerald M. Sass Distinguished Service Award in 2010 by the Association of Schools of Journalism and Mass Communication for expanding the internship programs and addressing changes in media technology. Sass is an honorary member of the UA Journalism Advisory Council.
The Asian American Journalists Association honored Holden in 2015 with its Leadership in Diversity Award for promoting news media diversity. Holden was a lifetime member of ACES: The Society for Editing.
 "I urge those whose lives were touched and careers made by Rich Holden to continue his legacy and commitment to promoting diversity and news gathering excellence by sending a contribution, large or small, to the Richard S. Holden Fellowship managed by the ACES Education Fund," Mary-Anna Holden told the Dow Jones News Fund. "As Rich said when he received the AAJA Leadership in Diversity Award, 'Don't give up the fight.' "
Contributions may be sent to the ACES Education Fund, c/o Neil Holdway, Treasurer; 409 S. Springinsguth Road, Schaumburg, IL 60193, earmarked for the "Richard S. Holden Fellowship" which aims to promote diversity and develop leaders among editors. Donate online here.
Due to the COVID-19 pandemic, a graveside service will be held at a later date in the Presbyterian Church of Madison's historic Hillside Cemetery.