Drone, history projects win engagement grants
Feb. 8, 2019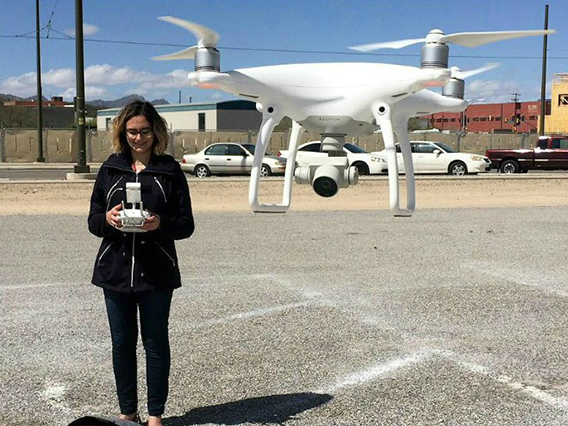 Students can become drone pilots and create high-quality recordings for an oral history website, thanks to two engagement grants awarded to Professors Michael McKisson and Linda Lumsden.
The spring 2019 grants are funded by donor Al Litzow, a 1973 UA School of Journalism graduate.
McKisson received $2,500 to create an online training program to prepare students to pass the FAA drone pilot's exam and understand the ethics of drone journalism. The program, set to launch in August, also will allow McKisson to buy a second drone for students to use.
"I wanted an easier way for students to get their pilot's licenses so they can fly drones as journalists," said McKisson, who renewed his license with the FAA after his initial two-year certification expired.
Students already are getting experience flying drones in classes and using drone footage in their multimedia projects, but they must have a licensed instructor such as McKisson present.
Earning a license would allow students to fly a drone on their own at an internship or job, making them more marketable when they graduate. The FAA requires a license for any operation that is commercial in nature – which includes journalism.
McKisson helped recent graduate Simon Asher earn his drone pilot's license, but the grant will allow more students to learn how to pass the FAA exam than McKisson can accommodate through independent study sessions such as Asher's.
As students practice with McKisson, they will shoot video for a proposed UA School of Journalism stock footage site, available for purchase by media and independent filmmakers. The revenue from the stock footage site will help support the program and buy more equipment in the future.
Lumsden received $500 to expand and improve the Sonoran Desert Journalists website that she began with her American Press History class in 2017. The site features oral histories, photos and links to the work of 15 diverse journalists who work in the Borderlands.
This spring's funding will let Lumsden buy two high-quality microphones for students in her class to use when interviewing 15 more local journalists. Each student will choose a journalist, set up the interview, record a 45- to 60-minute oral history, write a brief overview of the subject's career, take a photograph and find links to the person's work. 
"The journalists' stories will amplify UA's commitment to fostering diverse perspectives on campus, as will their samples," Lumsden said. "The project also fosters community engagement and provides global exposure of the history of Tucson-area journalists."
A three-member committee selected the winning proposals. The judges were Hipolito Corella of the Arizona Daily Star, Gail Godbey from the College of Social and Behavioral Sciences and J-school supporter Jane Swicegood.