Until further notice, the University of Arizona, in accordance with the guidelines recommended by the Centers for Disease Control and Prevention, encourages all employees to work remotely. Our offices are closed to the public, but you can reach the School of Journalism Monday–Friday 9am-5pm:
Get COVID-19 updates and information for the University of Arizona community. Also, see SBS resources for continuing instruction and learning.
Joe Sharkey's book developed into movie with Emilia Clarke
July 5, 2016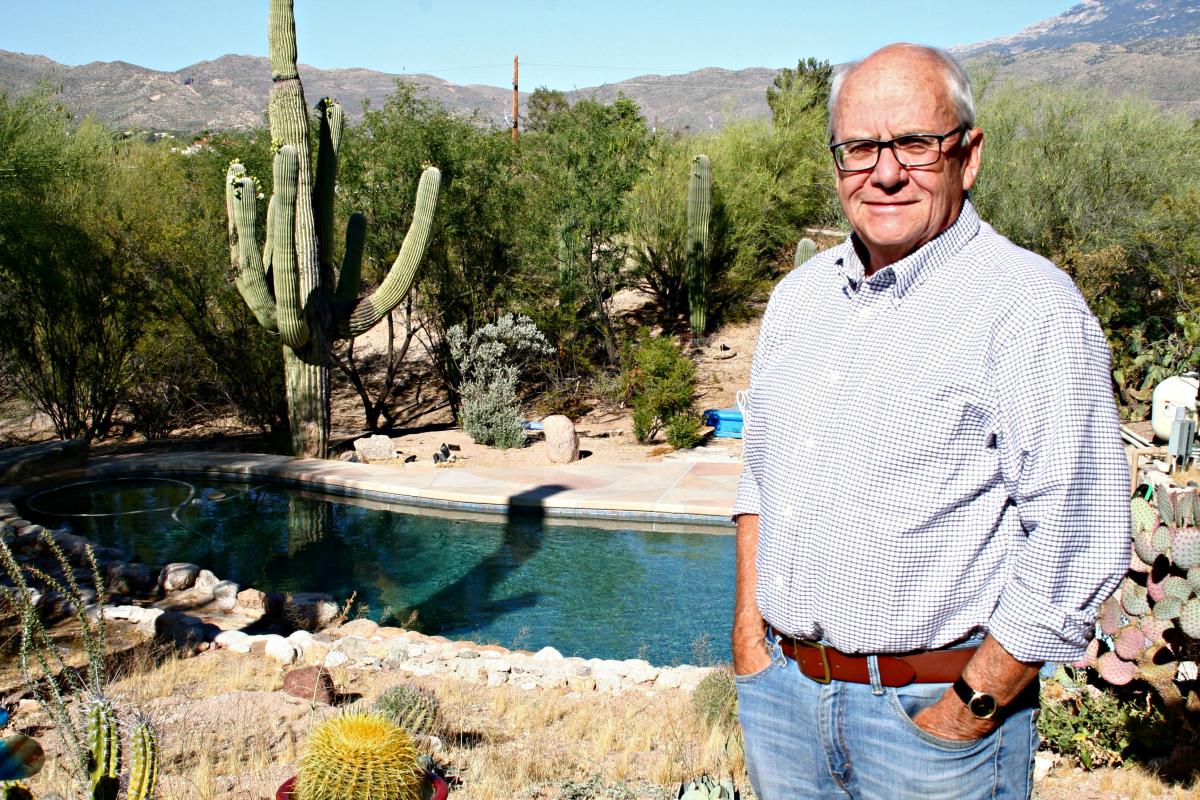 Joe Sharkey stared at the actors' call sheet on the first day of filming and finally allowed himself to celebrate.
"OK, now it's real. There's film in the camera, and I have the crew call," said the University of Arizona School of Journalism adjunct instructor who waited nearly 25 years to see his true-crime book, "Above Suspicion," be made into a major motion picture.
The movie features "Game of Thrones" star Emilia Clarke as Susan Smith, an impoverished informant for FBI agent Mark Putnam, played by Jack Huston of "Boardwalk Empire." Filming began in May in Harlan, Kentucky, under the working title, "Blood Mountain," but Sharkey said he expects the movie to be called "Above Suspicion" in the end.
Sharkey, a former New York Times columnist, is a consultant for the film based on his 1992 story of Putnam, a rookie agent posted to an Appalachian mountain town. In the book, Putnam took Smith as his mistress and killed her after the affair threatened his career and marriage. He hid her body before confessing a year later.
The book, Sharkey said, revealed the dark side of the FBI and its practice of paying large sums of money to develop networks of informants, such as Smith.
"The effect of this process on a wide scale was to basically create an industry of informant/subcontractors and to further worsen an already dysfunctional social environment, for cops and robbers and for everyday citizens," he said. "One result of 'Above Suspicion' was that the FBI did learn a lesson, and made genuine reforms in its policies toward developing and paying so many small-time informants."
Sharkey kept all his notes and interviews related to the book, and they've turned out to be useful when providing additional information to director Philip Noyce, screenwriter Chris Gerolmo and actors like Huston, who stars in the upcoming remake of "Ben-Hur."
"Because it's been almost 25 years, I forgot a lot of what I wrote," Sharkey said, laughing. "All of a sudden, I had to answer questions ... so I had to read the book again."
Sharkey, who bought back the book's rights a while ago, expects an updated printing to be released before the movie hits theaters – possibly later next year. In recent years, Sharkey bought as many copies of the book that he could find on Amazon.
"You could get them for a penny," he said. "Not anymore." The price for the original hardback now ranges from $61 to $244 on Amazon.
Sharkey, who hopes to visit the Kentucky set in July, said he is already impressed with Clarke, who plays a sassy coal miner's daughter living with her abusive ex-husband (played by Johnny Knoxville) and her two children before falling for Putnam.
"Emilia is real smart," Sharkey said about the character played by Clarke, the powerful Daenerys Targaryen, or Mother of Dragons, on HBO's popular "Game of Thrones."
Sharkey said Clarke captured her character quickly. "She's a Brit, but she now speaks like she's from eastern Kentucky. It's amazing."
Clarke had kind words for Sharkey and the film in a recent magazine interview.
"It's an amazing, dark, dark drama ... I get to play a drug addict," she said in an interview with Violet Gray. "It is really gritty … It's so incredibly outside my experience, and takes on a real story."
Sharkey became known as a "quick true-crime writer," he said, after stints as a reporter and columnist for the Philadelphia Inquirer, executive city editor of the Albany (N.Y.) Times-Union and assistant national editor of The Wall Street Journal.
Three of his other non-fiction books – he also wrote a novel – could be made into movies:
"Deadly Greed," published in 1991, has been optioned. The book is about the 1989 Boston killing in which Charles Stuart fatally shot his pregnant wife and stirred racial tensions by accusing a black assailant of the crime.
"Lady Gold," co-written with Angela Amato and published in 1998. The book, about a New York City police detective who worked undercover as a mobster's girlfriend in the Gambino family, is owned by Paramount Pictures and is development by actor Mel Gibson as the director.
"Death Sentence," published in 1990 and for which Sharkey is writing a screenplay, is about an accountant in New Jersey who murdered his wife, three teenage kids and mother, and escaped for 18 years in a new identity until a neighbor in Denver fingered him.
"I hope that those books go into film production sometime this decade," quipped UA School of Journalism professor of practice Nancy Sharkey, his wife.
Nancy, a former New York Times editor, has been a sounding board for Joe's books.
"He's never needed editing. He's a precise, careful writer and a good self-editor," she said, adding that she helped him think through the opening scenes in Pikeville, Kentucky, for "Above Suspicion." Pikeville is where Putnam said he accidentally strangled Smith in a fit of rage after claiming she slapped him and threatened to tell his wife and superiors about their affair and her pregnancy.
Joe Sharkey said the movie is doing his book justice, thanks to Noyce, who directed the 2010 hit "Salt" with Angelina Jolie and one episode of A&E's remake of "Roots." Noyce agreed to direct "Above Suspicion" in 2000 when producer Colleen Camp, a former actress, hired Gerolmo to write the adapted screenplay.
"It just took that long to find the right actors," Noyce said in an interview with Forbes. "Eventually we decided to go with lesser-known but emerging names in Emilia and Jack. Both are enormous talents and part of the next generation of movie stars."
When talking to students, Sharkey, who is teaching a UA summer class in beginning reporting, uses the book to show the power of long-form narrative journalism.
"If journalism done right has value in public service, then 'Above Suspicion' did make a small difference. It's a good reporting job, and it's all true," Joe Sharkey said, adding that Mark Putnam and his wife, Kathy Putnam, fully cooperated with him, along the prosecution.
Putman left prison in 2000 after serving 10 years of his 16-year sentence for manslaughter. His wife, who stood by him during the ordeal, died two years before his release.
"It was one of the most enjoyable reporting jobs that I've ever done because it was so interesting," Sharkey said. He hopes his success will inspire his students. "I tell them, 'You're not going to rich in journalism, but you can have a good career, and you get to have adventures."