McKisson captures SBS teaching award
May 17, 2021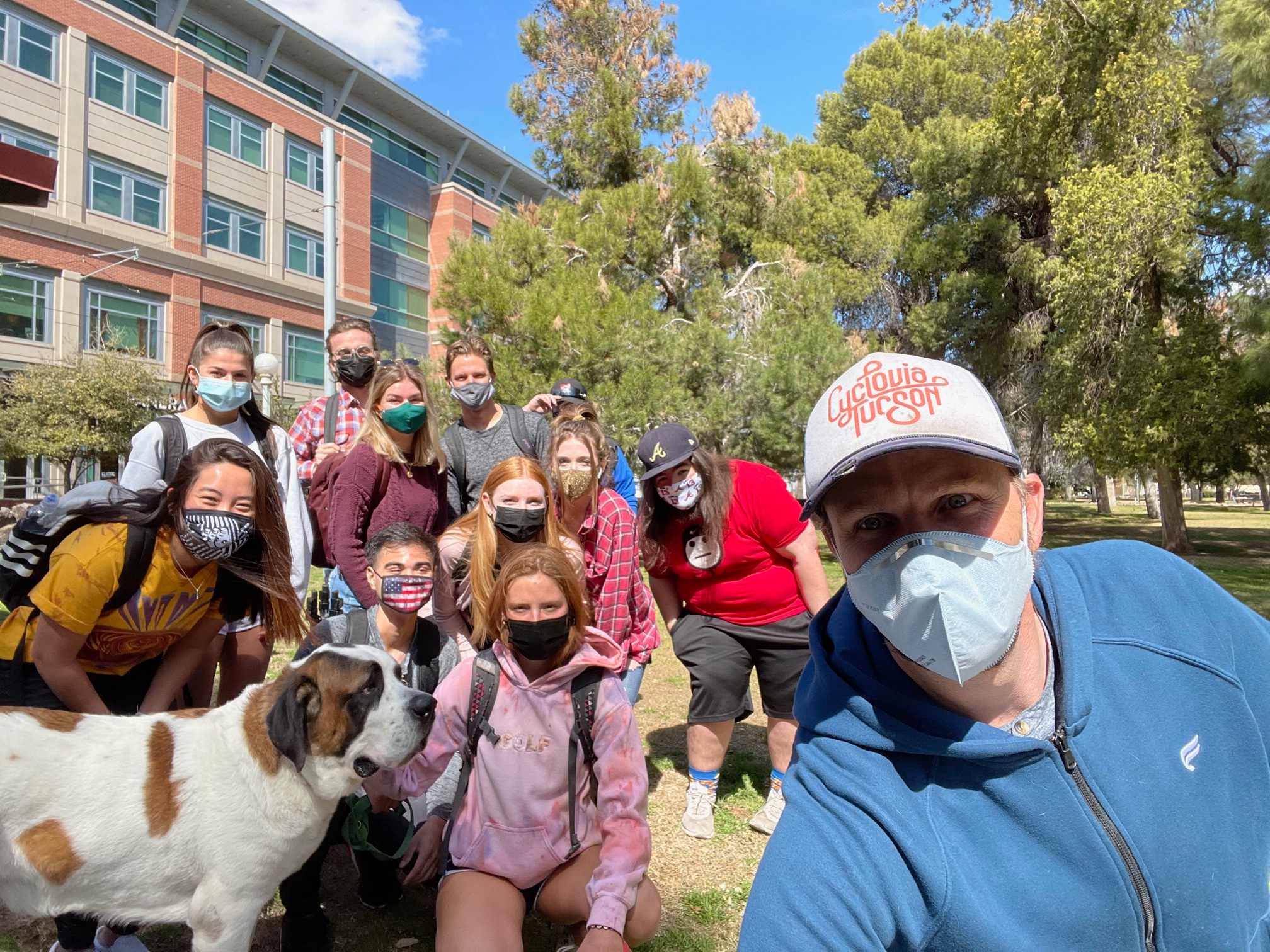 For his creativity inside and outside the classroom, School of Journalism Associate Director Michael McKisson won the spring 2021 undergraduate lower-division teaching award from the College of Social & Behavioral Sciences.
Professor Carol Schwalbe, director of the school, nominated McKisson, calling him "an agent of change in the school, the university and the profession." The associate professor of practice was one of five award winners from 19 SBS academic departments and schools.
"Michael McKisson applies innovative, high-impact practices in lower-division teaching," one of the award judges said, "from integrating hands-on experiences with audio and video technology for hands-on journalism experiences, to having students log and reflect on their own media consumption practices, to teaching business skills for pitching and designing interactive news projects."
Although McKisson is known for his Drone Zone (JOUR 482) class, it was his time co-teaching JOUR 205 (Reporting the News) with Schwalbe and his teaching JOUR 150C1 (News in Society: The Printing Press to Fake News) for non-majors that led Schwalbe to nominate him.
In 205, Schwalbe noted that McKisson helped incorporate "radio stories into a curriculum that had only included written stories," and he also taught students to use interactive maps and timelines in their work.
She also noted how he went above and beyond to make sure to engage all 150 students in his JOUR 150C1 class, despite it being on Zoom because of the pandemic.
"This was no small undertaking in a class that size," Schwalbe wrote in her nomination letter. "It was easy for students to turn their camera off and fade into the background, but those were the students he tried the hardest to involve."
In a course evaluation, one of McKisson's students called it one of his favorite classes and wrote that the professor was "really flexible on technical difficulties and aware of how we were all doing during this rough semester." 
Mckisson became a professor of practice at the school in 2013 and holds an MBA from the University of Arizona.
"Enthusiasm and engagement are the things I focus on," he said. "Students can tell if you are excited about the topic and they get excited, too. I also believe that we learn best by doing so I try to get students to put the topics we are learning about into practice."
Calling the award "pretty incredible … after such a difficult 14 months," McKisson said he's working on expanding the drone program as well as looking into 3D modeling and printing to see how the technologies can benefit journalists. He said all of his fellow professors had to get creative in teaching their classes virtually.
"I am planning to work with my ONA (Online News Association) club to build and program a drone from scratch while modeling and building 3D printed parts to attach data sensors and cameras," McKisson said. "Mostly though, I am planning to savor being back in a classroom with all the students.
"It's been nice to see some of them this semester for the partially in-person class, but I am really looking forward to getting to visit with them in the halls of Marshall."