Podcast project explores life as a student
Sept. 8, 2018
What's it like to be a Wildcat?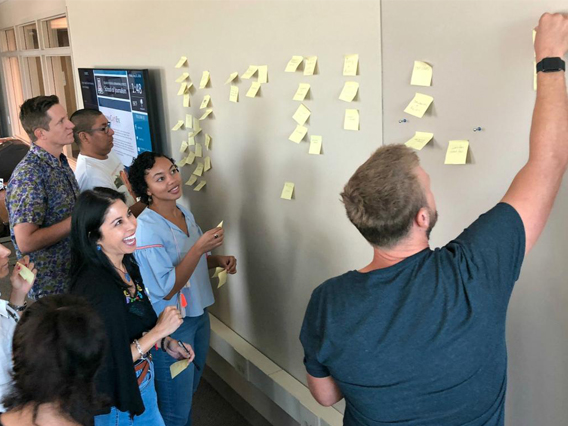 University of Arizona School of Journalism students will try to answer that question as they report and record episodes for the "PreReq Podcast: An inside look at being a student in 2018."
Students are trying out new audio equipment and working with Andrew Brown, a producer from Arizona Public Media. The project is led by professors Michael McKisson and Jeannine Relly, who were awarded a $2,000 teaching engagement grant from donor Al Litzow ('73) in the spring.

Zeina C. Peterson and fellow grad students Krissy Obeng and Ava Garcia interviewed students on dorm Move-in Day a few weeks ago.
 
"I was kind of nervous at first … but it's really easy to have a conversation with someone," Peterson said. "I think when people see a camera, they are likely to (be uncomfortable). But with audio interviews, people want to actually tell their stories. It feels very fluid and very natural."
 
Peterson and others attended a podcast brainstorming session Aug. 31 to go over recording equipment and plot out their episodes. She, Obeng and grad students Dalal Radwan, Alisa Ivanitskaya, Meredith O'Neil, Ty Hudson, Ambur Wilkerson and undergrad Pascal Albright joined Professor Celeste González de Bustamante, McKisson, Relly and Brown in the school's Reading Room. Each person came up with ideas on post-it notes and sorted them on the wall.
 
The first episode will focus on the anticipation of college and why students are at UA. Future episodes may focus on diversity and inclusion, social interaction and health and well-being. Peterson is slated to be the podcast host.
 
Brown and McKisson gave the group tips and stressed the importance of getting clean audio, checking sound levels and recording room tones.
 
"We're not fishing for soundbites," Brown said. "We want to hear stories, so it's totally OK to react as you would as a person. If someone tells you something that sounds unbelievable, you can say, 'No way.' Be yourself, in the moment, and have a genuine conversation."
 
Added McKisson: "Approach the project as a fellow student. … Open up to people. Share honestly, and get them talking about their experiences."
When the project is finished, McKisson hopes it will be picked up by Arizona Public Media, Tucson's NPR affiliate, or PRI (Public International Radio).