Ramos soars as student journalist, athlete
April 14, 2022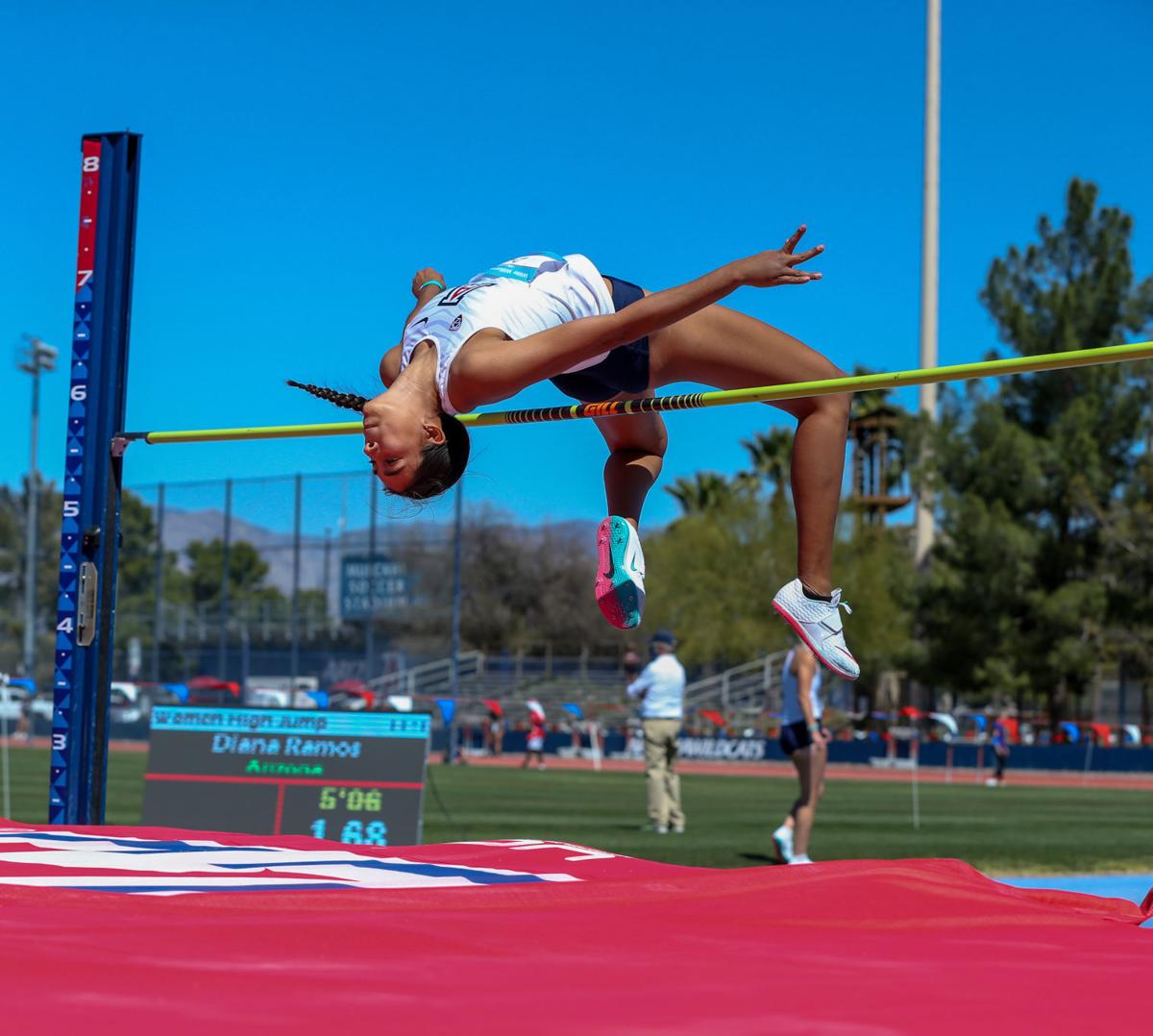 At 5-10, University of Arizona high jumper Diana Ramos can clear a bar only 2 inches shorter than her height, using speed, strength, power and flexibility in her athletic pursuits.
She's used that momentum and steely resolve to charge forward in life, overcoming a background of limited higher educational opportunities to become a standout journalism student and college athlete.
Born in Caracas, Venezuela, Ramos, 22, was awarded the UA School of Journalism's B.P. Campbell Award for outstanding junior. She set the Venezuelan national indoor high jump mark at 5 feet, 7.25 inches and jumped 5-8 in an outdoor meet last year.
Ramos is an apprentice reporter at the Arizona Daily Star and also has worked at the Arizona Daily Wildcat.
"Diana is a hard-working, self-driven and creative student," said Professor Ruxandra Guidi, who had the senior in her advanced reporting class. "She revels in coming up with her own story ideas and writing in a lyrical way. She's always eager to learn new approaches to journalism."
The professor also hails from Venezuela, where "the prospect of getting to go to college in the U.S. with a scholarship is almost nonexistent" because of the country's worsening political and economic situation, said Guidi, adding: "Diana came to the U.S. and the UA on her own, and she's been most resilient."
Ramos was raised by her accountant parents, along with an older sister. She started track and field at age 14 after quitting gymnastics.
"For me, high jump is the perfect combination of strength and beauty," Ramos said. "When I am jumping I feel free and in control. It is this space where I am by myself, just the bar and me. So, I like to think that I can fly."
Ramos soon made the Venezuelan national team, giving her exposure to the wider world of track and field. A friend from Mexico she met at international track meets told her about the University of Arizona and the NCAA.
"It was just a casual conversation with a friend on (social media)," she said of the day her life trajectory changed. Ramos sent the UA team an email introducing herself and enrolled in spring 2019.
At first, the language differences, along with her training schedule of three to four hours a day during the season, made the educational transition difficult. Common sports terminology, such as Pac-12 and NCAA, were foreign to her. Ramos, who's more confident now in speaking English, spends time at the library and approaches her classes like a meet.
"It's the same as high jump," Ramos said. "The first time doesn't work, then you have the second attempt. If that doesn't work you have your third attempt. If it works, great. If not, you have your next competition."
Rather than go into sports journalism after graduation, she wants to pursue a master's in Latin American Studies and is interested in global and science journalism.
Ramos is frustrated by the "extreme" inequality in her home country and has a hard time grasping the rampant inflation that makes day-to-day life in Venezuela a struggle. Currently, she sends money home when she can to help her parents pay the bills.
"I'm trying to convince (friends and family) that's not right," she said about injustices in her home country. "You cannot live like this. You don't need to wait for the government to give you a bag of food for you to eat."
Bob Myers, a volunteer assistant coach for the UA track and field team, called Ramos a model student-athlete who gets along with everyone. She's the type of person, he said, who isn't going to shy away from the hard topics.
"She leads by example," Myers said. "… If she sees something that is not right, she will speak up for it."
COVID-19 hit not long after Ramos arrived. Unlike many of her classmates, she could not travel home due to the uncertainty of the medical situation in her country. Since then, she's had passport issues keeping her in the United States year-round.
Ramos has made the best of it. She joined the school's National Association of Hispanic Journalists chapter and surrounded herself with a "little international community" of friends from Germany, Turkey, Spain, Brazil, El Salvador and Nigeria. She saw the Grand Canyon for the first time and hopes one day to bring her parents to visit.
"She's been home once in three years," Myers said. "There's turmoil in her country over water, electricity and Internet access. She's real adaptable. She has goals and nothing will stop her from reaching her goals."
During her tough moments, Ramos thinks about friendships, opportunities and travels she's had due to her sport and the J-school.
"I see Diana from freshmen year and Diana now and I'm so totally different — in the sense I was this child and I didn't realize how brave I was (to get here). I literally come from zero to hundred (in one flight). How can everything change in just a day of traveling?"