Retis, Guidi join faculty
Aug. 12, 2019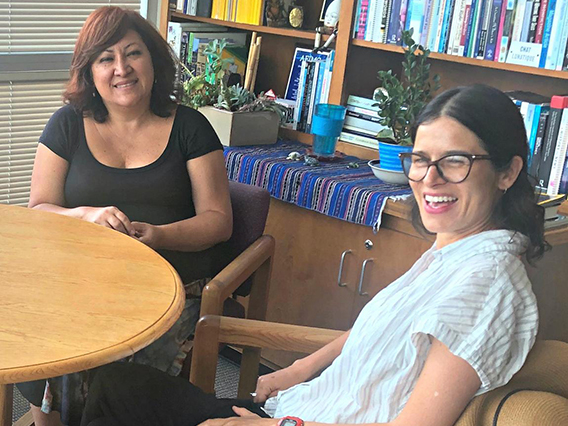 New faculty members Jéssica Retis and Ruxandra Guidi are committed to diversity and helping develop a bilingual journalism program at the University of Arizona School of Journalism.
Retis, an associate professor who grew up in Peru, comes from Cal State Northridge and specializes in the analysis of contemporary Latino diaspora and its media implications.
She's taught and conducted research in Mexico and Spain and has nearly 20 years of experience as a journalist at publications such as Fin de Semana, Universal and Ojo in Peru, and Revista Mexicana de Comunicación, El Nacional and Reforma in Mexico. Retis also has experience as a producer, scriptwriter and news anchor for television stations.
"I really enjoy sharing my ongoing research findings with students," Retis said. "I am passionate about training open-minded and critically thinking journalists. I'm proud when I see my former students publishing their stories and doing fantastic coverage."
Guidi, an assistant professor of practice who grew up in Venezuela, has been a freelance reporter, editor and teacher for two decades.
She specializes in audio reporting and podcasting and has contributed to High Country News, BBC's The World, NPR's Latino USA, The Guardian and the Kitchen Sisters. With her husband she created the Fonografia Collective website, focusing on "empathetic and culturally sensitive documentary storytelling about everyday people around the world."
 
Guidi succeeds retired Professor Terry Wimmer as the instructor and editor for Arizona Sonora News, the school's capstone media course. She's excited about helping students "dream up" unique approaches to stories while learning how to report on the community and the border.
 
"And I'm really excited about coming up with projects that we can do together as a class," such as podcasting or a long-form magazine with a theme, "encouraging students to pursue their own approach to storytelling," Guidi said.
Both professors see a need for more diverse, investigative and collaborative reporting. That includes helping develop a bilingual journalism program at the school.
"I think this type of program will help prepare journalists for the current society we live in," Retis said.
Director Carol Schwalbe said the school is "excited about having these talented, dynamic professors join our faculty and inspire our students."
 
"Jéssica has conducted ground-breaking research about the contemporary diaspora of Latinos and their influence on global media," Schwalbe said. "Rux is a gifted storyteller who works across platforms and looks for new ways to tell stories in intelligent, thoughtful and sensitive ways."