Sotomayor retires from Advisory Council
May 10, 2021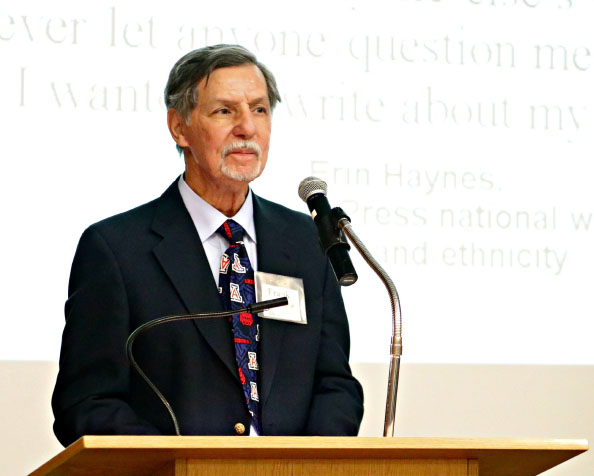 More than half a century after the University of Arizona named him the Outstanding Male Graduate for 1966, Pulitzer Prize winner Frank Sotomayor has stepped down from his position as chair of the school's Journalism Advisory Council. 
Sotomayor, a national leader in journalism diversity and inclusion, has spent 25 years on the council. He wants to spend more time with family and work on his book about Mexican Americans entering Stanford University between 1967 and 1974, during the early years of affirmative action.
Mark Woodhams, former Arizona Student Media director, has moved up from co-chair to take over for Sotomayor. Chyrl Hill Lander, a 1976 School of Journalism grad, has filled the vice chair spot. 
Sotomayor will stay on as an honorary member of the council and plans to help the school organize its second Hall of Fame ceremony. Sotomayor was inducted into the inaugural class in 2018. 
"Frank has been the heart and soul of the Journalism Advisory Council for many years," said Prof. Carol Schwalbe, director of the J-school. "He certainly not only has a special affection for the school, the faculty and the staff, but for the journalism diversity workshop." 
Schwalbe first met Sotomayor at the annual Donald W. Carson Journalism Diversity Workshop for Arizona High School Students. Impressed by his devotion to the students and their work, she recalled students lining up to take a photo with him after his presentation to the group. 
"Frank has extensive professional and alumni contacts," said Woodhams, a council member for five years. "He's been a stalwart for decades in his support and enthusiasm for journalism education and the Daily Wildcat. I'm not there to replace Frank. He is a standout among all the alumni and those who have served on the journalism council." 
"Frank will be missed," said Lander, whom Sotomayor nominated to join the council in 2017. "He is a hard worker who devoted a tremendous amount of his time to the advisory council." 
Sotomayor, Lander said, was "instrumental in developing the Hall of Fame for the School of Journalism." 
In addition, Sotomayor helped save the department in 1994, when then-UA President Manuel Pacheco planned to eliminate journalism from the university. Living in Los Angeles at the time, Sotomayor flew back to Tucson, met with faculty and formed a Save the Journalism committee. 
"Together, we drew up a battle plan to fight like wildcats to keep the program going," Sotomayor said. 
The plan worked, thanks to thousands of letters, phone calls, telegrams and emails, all urging the university to keep the program. 
Sotomayor co-edited a Latino series for the Los Angeles Times that won the 1984 Pulitzer Prize for Public Service. After ending his career at the Times, and his teaching at USC, he moved back to Tucson following the death in 2009 of his wife, Merigay. He married Barbara Camacho Benton Sotomayor in 2013 and, coming full circle in his career, covered the UA track and field team for the Arizona Daily Star in recent years. 
"Serving on the advisory council has been stimulating and rewarding," said Sotomayor, who holds a master's degree from Stanford. "It's allowed me to stay close to the journalism program that I love, and it's also enabled me to make new friends—faculty, staff and fellow JAC members. 
"I've enjoyed providing advice on fundraising and on School of Journalism activities while learning about the school's challenges and its progress on many fronts," Sotomayor said. "Serving on the council and being an annual donor has been my way of giving back to the school." 
Woodhams is the former adviser for the Arizona Daily Wildcat, UATV3 and Kamp Student Radio. 
"I like Mark's straightforward approach," Schwalbe said. "He tells you exactly what he thinks. He's willing to step up, as he is doing now. He gets things done. He believes in the principles of journalism, yet he's open to new and innovative ways of doing things."
Lander is a former Tucson Unified School District spokesperson and UA adjunct instructor. 
"Chyrl is committed to diversity and inclusion, and her knowledge of the media industry and her community contacts have been invaluable to the council," said Mike Chesnick, manager of career strategies and outreach for the J-school. 
Sotomayor expressed gratitude to both Hill Lander and Woodhams for "bringing continuity and strong leadership to the council" following his departure. 
As for Sotomayor, he "has changed us forever and for the better," Schwalbe said. "We are really indebted to Frank for everything he has done for the school and the advisory council." 
• Meet the Journalism Advisory Council
See more photos of Frank Sotomayor
Honoring Frank slideshow.pdf