Thuemling captures spring 2021 Finley award
April 16, 2021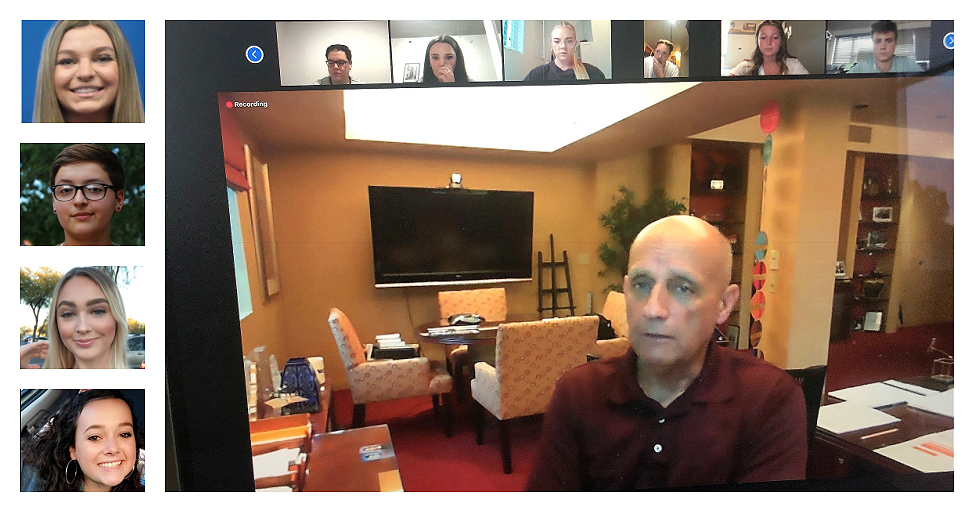 Four students in the School of Journalism will receive scholarships for producing the best stories on deadline in the semi-annual Mark Finley Gold Pen Award for Best Beginning News Writer Contest on Wednesday night.
Katie Thuemling won first place and will receive a scholarship of $2,000. JT Thorpe came in second and will receive a scholarship of $1,500. Tied for third place awards were Maggie Rockwell and Payton Toomey, who will each receive a scholarship of $1,250.
Dr. Richard Carmona, the 17th U.S. surgeon general and a leader on the UA's pandemic response team, was the speaker for the spring 2021 contest.
A dozen students, selected by their professors as promising beginning news writers, participated in the competition.
All participants will receive engraved gold pens.
Having a key role in the University of Arizona's programs for COVID testing, tracing and vaccinating, Carmona spoke to the student journalists for 20 minutes. The students then had a chance to ask questions for 40 minutes, followed by one hour to write a breaking news story. 
The contest was coordinated by Professor of Practice Susan Knight and Senior Academic Adviser Paloma Boykin. 
Judging the student work, Professor Knight was joined by Professor Nancy Sharkey and Joe Ferguson, a journalist-turned-public servant.
The contest is named for the late Mark Finley, a 1934 UA graduate who was a journalist and assistant to the publisher of Hearst's Boston newspaper for 17 years.
The winning students will be celebrated at the School of Journalism's annual Just Desserts scholarships and awards event in May at the end of the semester.