Formed in the mid 1990s, the Journalism Advisory Council helps the school achieve its mission to prepare students to face the complex challenges confronting journalists in the 21st century.
Council members, under Chairman Frank Sotomayor, advise Director David Cuillier and the faculty — and volunteer their services in fundraising, planning and community outreach for the school. Among the 21 members — including four honorary members — 14 are UA School of Journalism graduates.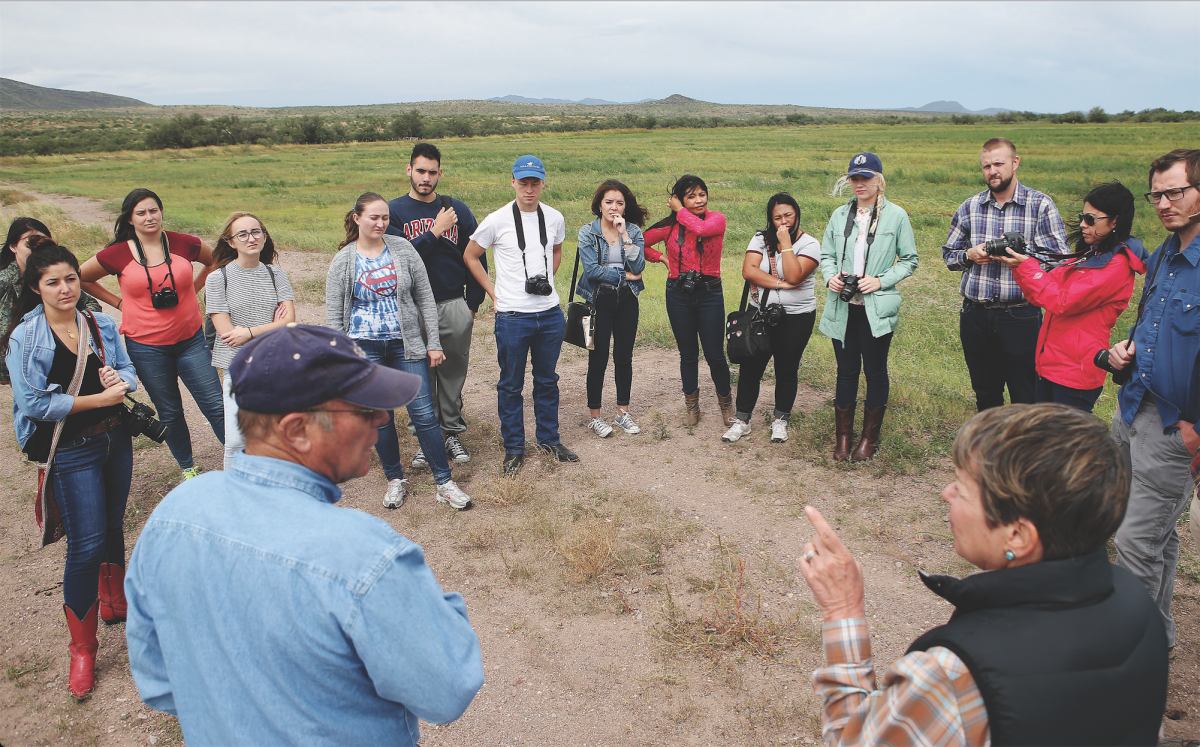 "In 1994, a strong network of journalism alumni and supporters mobilized to save the program from threatened closure," Sotomayor said. "One of my goals is to galvanize that type of support. I'd like to see reunions each Homecoming of journalism alumni. Donations to the school are vital for it to continue to grow. Many of our alumni's careers were jump-started by journalism training. I'd like them all to respond to donation requests by saying, 'I'm all in!' "
In addition, Sotomayor and other council members are available to talk to classes and mentor students. At right, Jon Rowley and his wife, Peggy, gave students in the school's border reporting class a tour of their Amado ranch and answered questions about immigration and smuggling. (Photo by Mike Christy, '11)
Meet the Journalism Advisory Council members
Frank Sotomayor (Class of '66), chair: Former editor and Pulitzer Prize winner at Los Angeles Times; former associate director for Institute for the Justice and Journalism at USC.
Jo Marie Barkley ('86): Public affairs coordinator, UA Department of Emergency Medicine.
Bobbie Jo Buel ('79): Former editor of Arizona Daily Star; member of Arizona Daily Wildcat Hall of Fame.
Paula Casey: Executive director of Arizona Newspapers Association in Phoenix.
Hipolito Corella ('90): Senior editor at the Arizona Daily Star, where he has worked since 1991.
John D'Anna ('83): Page One editor, Arizona Republic; member of Daily Wildcat Hall of Fame.
Sara Hammond ('77), vice-chair Arizona Public Media science reporter/producer; former UA Cancer Center public affairs director; former Arizona Daily Star reporter.
Scott Harelson ('84, Radio/TV): Media relations manager at Salt River Project in Phoenix.
Chyrl Hill Lander ('76): Former journalist at Arizona Daily Star, TUSD spokesperson and UA journalism adjunct instructor.
Jim Rowley: Partner at Strongpoint Marketing; former vice president of audience development at the Star.
Jon Rowley ('66): Rancher in Amado, Arizona; family history in publishing and media ownership.
Pat Sallen ('82): Ethics lawyer and consultant.
Nicole Santa Cruz ('09): Reporter at the Los Angeles Times, where she also writes the Homicide Report blog. Received Daily Wildcat Young Alumni Award in 2011.
Arlene Scadron ('75): Former journalism head and student newspaper adviser at Pima College.
Anne F. Segal ('75): Tucson attorney; former Pima County Justice of the Peace in Precinct One.
Pam White ('81, Radio/TV): Former TV/radio reporter for KUAT TV in Tucson.
Mark Woodhams: Former director of Arizona Student Media and adviser for the Arizona Daily Wildcat.
Honorary members
Michael Chihak ('71): Arizona Public Media news director; former Tucson Citizen publisher.
Patty Weiss Gelenberg ('71): Former KVOA 4 anchor in Tucson.
Richard Holden: Former executive director of Dow Jones New Fund.
Gerald Sass: Former executive vice president of the Freedom Forum.