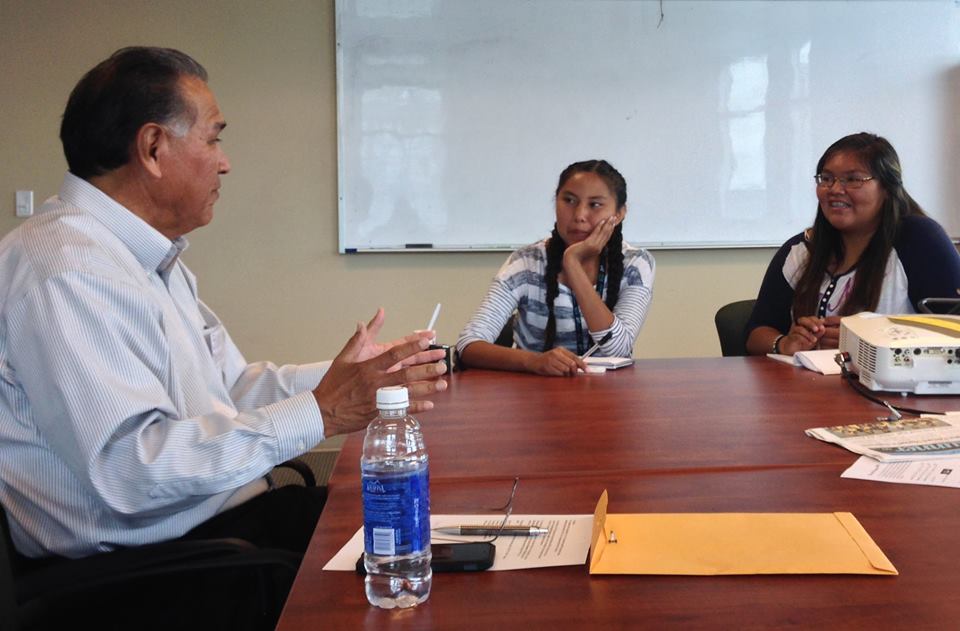 Stanley Throssell, editor of the Sells newspaper The Runner, talks to students Kayla Yazzie (center) and Adrienne Graham at the 2015 Journalism Diversity Workshop. Throssell is a 1979 UA journalism graduate.
Students put out a newspaper, The Chronicle, and produce a website during their one-week workshop.
Twelve high school students will live on the UA campus for a week and will produce a newspaper, website, and multimedia projects as part of the 2016 Journalism Diversity Workshop for Arizona High School Students. This year's workshop will be held June 5-11, 2016.
The application for the summer workshop is available and can be downloaded here. It must be completed and postmarked by April 8, 2016, to be considered for the upcoming workshop.
Not only do participants learn the fundamentals of journalism, law and ethics, and get to produce publications using the UA School of Journalism labs and facilities, but this six-night, seven-day program is free. Participants are responsible only for some meals and incidentals.
The program, sponsored by the Dow Jones News Fund, has been offered at the UA School of Journalism since 1981. Numerous participants of this workshop have gone on to earn journalism degrees — many of them right here at the University of Arizona — and have joined the workforce with significant and meaningful contributions.
Some of these same people — along with others committed to diversity and journalism education — will be mentors and instructors during the workshop.
If you're a journalism or English adviser at a high school in Arizona, please help us identify students who show an interest in journalism and higher education. The program is aimed at upcoming juniors and seniors, but other students will be considered as well, including graduating seniors who plan to attend college in fall 2016.
If you're a parent or a student with questions, please contact workshop director, Elena Stauffer, via email at ecstauff@email.arizona.edu, or by phone at 520-621-9616. Elena, senior program coordinator at the UA School of Journalism, is a UA J-school alumna and has been the workshop director since the summer of 2013.
We look forward to hearing from you and receiving your applications!
Download application HERE.
Click HERE to see past issues of The Chronicle, a newspaper put out by the workshop students each year. 
Click HERE to see last year's website produced by students.
High school students and mentors gather during the 2015 Journalism Diversity Workshop on the UA campus.