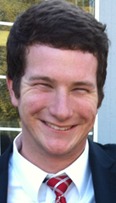 Drew Gyorke
UA journalism student Brooke Cambareri took first place in the spring 2016 Drew Gyorke Memorial Fund Photo Contest for her portrait of a women's lacrosse player.
Elise McClain captured second place for a silhouetted shot of a violin player with the moon behind her, and Pablo Lopez finished third with a portrait of a dance teacher.
The contest featured 12 photos from Professor Kim Newton's JOUR 203 class. All 12 of the images will hang on the School of Journalism hallway in front of Newton's office (Marshall 327).
Drew Gyorke, an adventurer and aspiring photojournalist at UA, died his junior year in a May 2013 car accident. The endowed award named after him recognizes the best beginning photojournalism students. (Click HERE to see past winners and photos since 2013.)
Cambareri will receive $200, followed by McClain ($125) and Lopez ($75).
The other photos are by students Ciara Encinas, Alexa Morelli, Mackenzie Boulter, Erica Szpylczyn, Allison Suarez, Maritza Cruz, Nicholas Smallwood, Jireh Lopez Jimenez and Victoria Hudson.
Here are the 12 images:

Celine Sanchez poses in her University of Arizona lacrosse uniform in Tucson on March 7, 2016. Sanchez is currently playing her first season for the UA women's lacrosse team. (Photograph by Brooke Cambareri) COPYRIGHT:© Brooke Cambareri 2016

Lillie Richardson, 11, busks while playing the Suzuki method to a crowd atop Sunset Point on Airport Mesa in Sedona, Ariz. on Feb. 20, 2016. Richardson is a fourth-year violin student. (Photograph by Elise McClain) COPYRIGHT:©Elise McClain 2016
Liliana Norzagaray finishes teaching her level one dance class at Roskruge Bilingual Elementary school, on March 7, 2016, in Tucson. Liliana is a professional folklorico dancer for Compañía de Danza Folklórica Arizona. (Photograph by Pablo Lopez) COPYRIGHT:© Pablo Lopez 2016
Jacqueline Chau, Katelyn Kennon and Shuhan Yang march against sexual assault during the Take Back The Night March on April 12, 2016 at The University of Arizona in Tucson. The three students are are speak interns for ASUA. (Photograph by Ciara Encinas) COPYRIGHT:© Ciara Encinas 2016
Tucson police officer, Nancy Fatura, works from her home office on March 7, 2016. Fatura is a sergeant at Tucson Police Department and an experienced hostage negotiator. (Photograph by Alexa Morelli) COPYRIGHT:© Alexa Morelli 2016

Alan Scherer, 79, prepares to race his Factory 5 kit car at Race Wars Arizona, in Gila Bend on Feb. 27, 2016. Scherer has been gradually building his car from start to finish for seven years, and raced it for the first time at the event. (Photograph by Mackenzie Boulter) COPYRIGHT:© Mackenzie Boulter 2016
Johnny Martin, of the Interfaith Movement of Arizona State University invited University of Arizona students in Tucson to talk about faith with him on the mall on March 2, 2016. The club's goal is to promote peace between the rival schools. (Photograph by Erica Szpylczyn) COPYRIGHT:©Erica Szpylczyn 2016

Jennifer Ayala brushes make-up on Kelsey Mason at the Tucson Mall on Feb.12, 2016 in Tucson. Ayala loves to focus so she can do an excellent job. (Photograph by Allison Suarez) COPYRIGHT:© Allison Suarez 2016

Ruby Bennett, 10, kicks the ball at the soccer tournament at Kino Sports Complex in Tucson on April 9, 2016. Bennett has been playing soccer for four years. (Photograph by Maritza Cruz) COPYRIGHT:© Maritza Cruz 2016

Abby Gonzales pitches for the Tombstone Yellow Jackets during their high school softball game against the San Miguel Vipers, on April 12, 2016, at the Kino Sports Complex in Tucson. The Vipers beat the Yellow Jackets 13-8. (Photograph by Nicholas Smallwood) COPYRIGHT:©Nicholas Smallwood 2016
Frank Jimenez, an insurance agent, poses for a portrait in front of his desk in on March 7, 2016, in Tucson. Frank sells Auto, Home, Life and Commercial Insurance through Farmers. (Photograph by Jireh Lopez Jimenez) COPYRIGHT:© Jireh Lopez Jimenez 2016

Bob Cook of Tucson speaks at the Tucson City Council Meeting in room 130 of the Pima Administration Building on April 5, 2016. Cook spoke on preserving the integrity of Broadway Boulevard. The council voted 5-1 to widen Broadway to six lanes between Euclid Avenue and Country Club Road. (Photograph by Victoria Hudson) COPYRIGHT:© Victoria Hudson 2016