Just Desserts: Ontiveros, Baier win top honors
May 12, 2020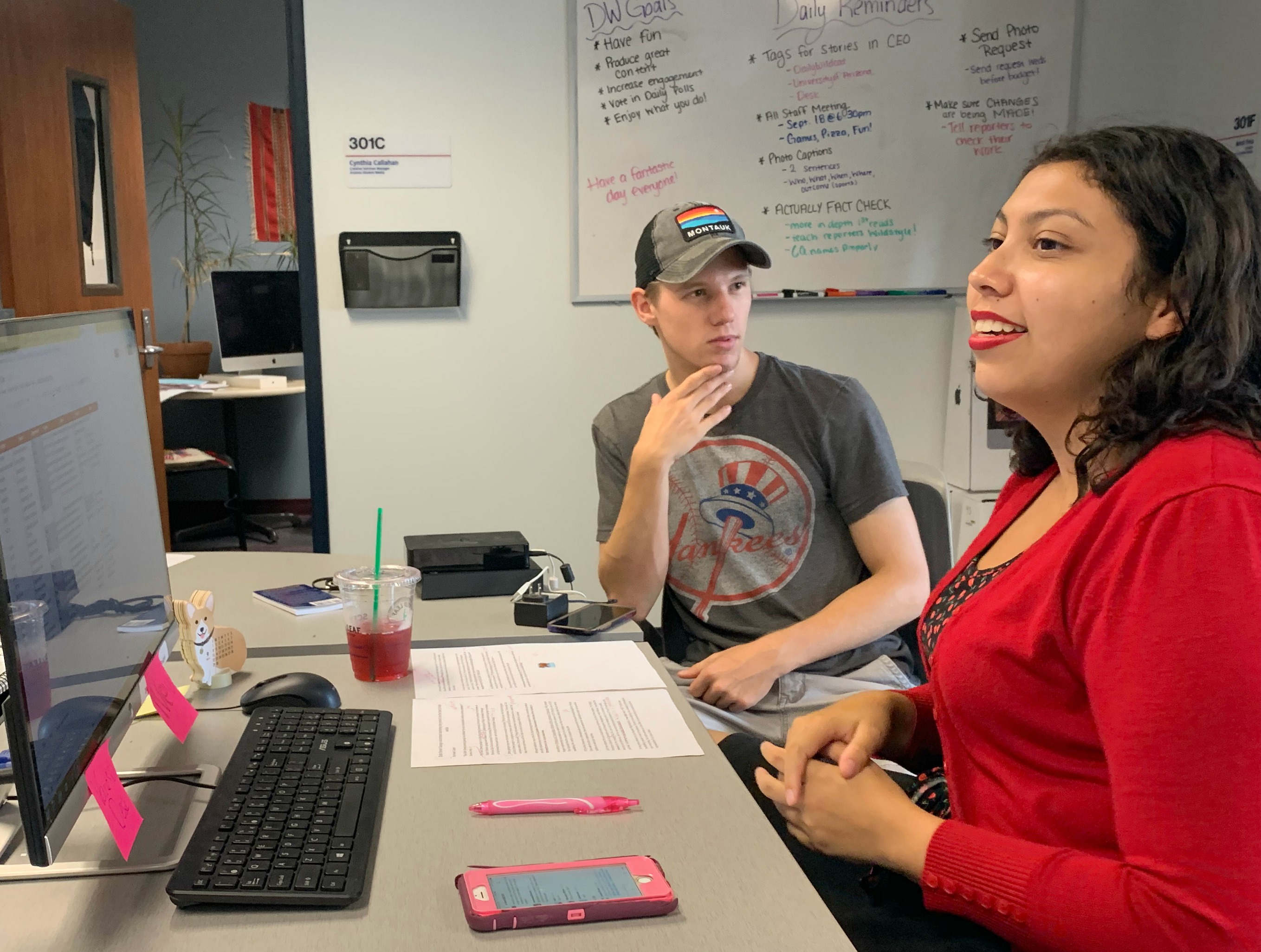 Vanessa Ontiveros, Rocky Baier, Tommie Huffman and Dominika Heusinkveld captured top honors May 13 at the University of Arizona School of Journalism's 54th Just Desserts student awards celebration.
Ontiveros received the Philip Mangelsdorf Award for Outstanding Newsperson of the Year, which recognizes the top reporter/journalist in the program.
She was an apprentice reporter at the Arizona Daily Star, a student employee at Arizona Public Media for The Buzz podcast and radio show and news editor at the Arizona Daily Wildcat.
Baier captured the Sherman R. Miller 3rd Award for Outstanding Senior. She was an apprentice reporter at the Arizona Daily Star, a breaking news intern at the Arizona Republic and landed a summer internship at the Wall Street Journal. 
Huffman received the Brewster P. Campbell Award for Outstanding Junior. Huffman is minoring in marine science and attended the Online News Association conference in New Orleans.
Heusinkveld was named the Outstanding Graduate Student. She is turning her master's project, "Flying Car: Why personal flying vehicles never took off," into a book.
More than 100 people attended the virtual ceremony via Zoom and Facebook Live. School Director Carol Schwalbe emceed the event, which had been scheduled for the Arizona Historical Society before the COVID-19 pandemic struck.
"We will never forget the way you persevered despite unprecedented disappointment and hardship," Schwalbe told students.
Assistant Professor Susan Swanberg won the Hugh and Jan Harelson Excellence in Teaching Award, in which students nominate professors and an outside committee votes on the winner. Swanberg also captured the award in 2019.
The Carol and Cecil Schwalbe Staff Award for Outstanding Service went to Kris Hogeboom, a senior business manager.
Other awards given out were:
Alex Parker Awards for Reporting: Jamie Donnelly, Sasha Hartzell, Alana Minkler
Kathryn Anne Governal Perseverance Award: Elizabeth Quinlan
Douglas Martin Courage and Integrity Award: Nina Kolodij
Leadership and Service Awards: Pascal Albright, Sasha Fruehauf, Clara Migoya, Meredith O'Neil
William Hattich Awards for Journalism Professionalism: Samantha Burdette, Blake Gephart, Jackson Peters, Alec White
Donald Still Award – Arizona Daily Wildcat: Pascal Albright
Diversity and Inclusion Award: Clara Migoya
Excellence in Multimedia: Alisa Ivanitskaya, Nicholas Smallwood
Innovation Award: Matt Brockman
Abe Chanin Excellence in Sports Reporting Award: Justin Pierce
Excellence in Broadcast Journalism Award: Brody Dryden, Alec White
Excellence in Science and Environmental Journalism: Brittany Uhlorn
Excellence in Research: Katelyn Caldwell, Laura Fuchs
School Media Award: Laura Fuchs, Elizabeth Humston, Nicholas Trujillo, Alec White
Certificates of Merit: Vianney Cardenas, Dani Cropper, Amaris Encinas, Adrian Ford, Alyssa Grabinski, Savannah Huls, Betty Hurd, Rebeca Moreno, James Parisi, Anika Pasilis, August Pearson, Jon Rice, Griffin Riley, Kacey Seeloff, Ariday Sued, Jesse Tellez, Maury Urcadez
Kappa Tau Alpha: Yasmin Acosta, Dani Cropper, Amaris Encinas, Gloria Gomez, Tommie Huffman, Betty Hurd, Ciara Jean, Clara Migoya, Donald Merson, Nina Kolodij, Mandy Loader, Rebeca Moreno, August Pearson, Alexandra Pere, Griffin Riley, Kacey Seeloff, NIcholas Smallwood, Maury Urcadez, Elvia Verdugo
Those receiving previous awards the last two semesters were:
Mark Finley Gold Pen Award for best beginning newswriter: Fall 2019: First – Denali Keefe. Second — Sunday Holland. Third — Jake Toole.
Drew Gyorke Photojournalism Contest: Fall 2019: First – Jacqueline Canett. Second — Sunday Holland. Third — Nathan McComb. Spring 2020: First — Marison Bilagody. Second — Madison Mccormmick. Third — Mackenzie Payton.
Those receiving scholarships were:
Arizona Daily Star Scholarship: Jesse Tellez
John R. Barnett Scholarship: Nicholas Trujillo
John G. Carlton Memorial Scholarship: Vanessa Ontiveros
Concerned Media Professionals Scholarship: Yasmin Acosta, Tommie Huffman
Peggy Daum Judge Scholarship: Jamie Donnelly, Pei-Yu Lin
Steve Emerine Scholarship: Anika Pasilis
Richard Gilman Scholarship: Alana Minkler, Gloria Gomez
Gordon D.C. "Darn Cat" Scholarship: Mandy Loader, Nicholas Trujillo
Hank Hubbard Scholarship: Priya Jandu, Vanessa Ontiveros
Donovan M. Kramer Sr. Entrepreneurial Scholarship: Sunday Holland, Mandy Loader
Sara and Harold Love Scholarship: Alexandra Pere
Douglas D. Martin Scholarship: Yasmin Acosta, Sunday Holland
William Milburn Memorial Scholarship: Yasmin Acosta
Sandra Ann Kelly Ramirez Memorial Scholarship: Alana Minkler
John Ruby Scholarship: Kelly Horyczun, Ericka Rios
Frank O. Sotomayor Scholarship: Nicholas Trujillo
Society of Professional Journalists Scholarship: Jamie Donnelly, Bryan Savic
Lois Whisler Scholarship: Anika Pasilis
In addition, the school handed out Jane Swicegood exploration grants to master's students Alisa Ivanitskaya and Meredith O'Neil. Swicegood, a longtime donor, established the fund for students to travel, buy equipment or conduct research.
Just Desserts program
Just Desserts Program 2020 b.pdf