Demers, others honored at 2019 Just Desserts
May 10, 2019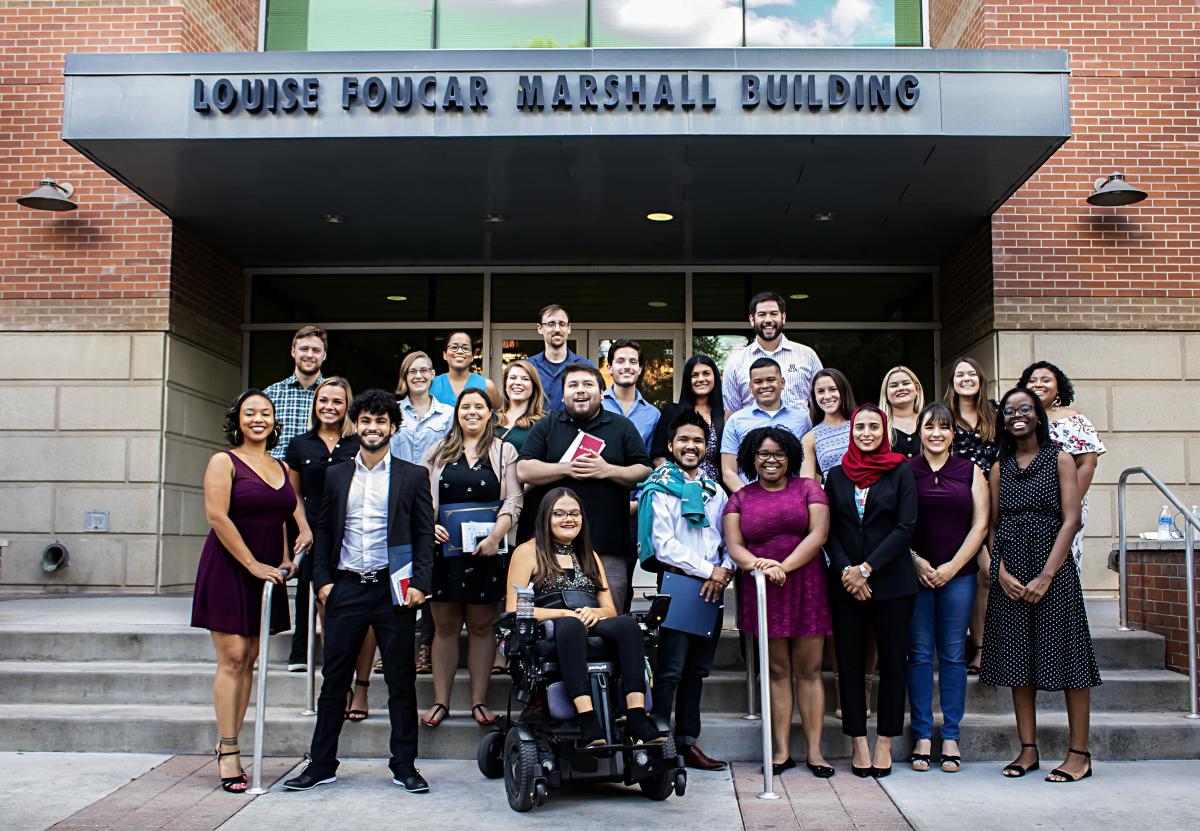 Jasmine Demers, Marissa Heffernan, Alec White and Jessica Suriano captured top honors May 8 at the University of Arizona School of Journalism's 53nd Just Desserts student awards celebration at the Arizona Historical Society.
• Photo gallery by Nick Smallwood   
Demers, a graduating master's student, received the Philip Mangelsdorf Award for Outstanding Newsperson of the Year, which recognizes the top reporter/journalist in the program.
She was an apprentice reporter at the Arizona Daily Star, writing several cover stories for "Caliente," and was editor-in-chief of the Arizona Daily Wildcat. Demers also defended her master's project, "42 Repeats: A Family's Multigenerational Battle with Huntington's Disease," that included an emotional video at jasminedemers.com/42repeats.
Heffernan captured the Sherman R. Miller 3rd Award for Outstanding Senior. At the Arizona Daily Star, she was the NASA Space Grant Intern and an apprentice reporter, producing multiple front-page science and news enterprise stories.
White, a broadcast student, received the Brewster P. Campbell Award for Outstanding Junior. He was sports editor at the Arizona Daily Wildcat and landed an internship this summer at Fox Sports Arizona.
Suriano was named the Outstanding Graduate Student. Her master's project, "Prove It," focused on the social and institutional factors contributing to sexual assault on campus. She was a Pulliam Fellow at the Arizona Republic last summer.
Assistant Professor Susan Swanberg won the Hugh and Jan Harelson Excellence in Teaching Award, in which students nominate professors and an outside committee votes on the winner.
The inaugural Carol and Cecil Schwalbe Staff Award for Outstanding Service went to Gladis Tolsa.
Other awards given out were:
Kathryn Anne Governal Perseverance Award: Erin Thomson
Alex Parker Awards for Reporting: Eddie Celaya, Jordan Williams
William Hattich Awards for Journalism Professionalism: Victor Garcia, Elizabeth Quinlan, Kathleen Kunz, Dalal Radwan
Leadership and Service Awards: Pascal Albright, Ava Garcia, Dalal Radwan
Douglas Martin Courage and Integrity: Jasmine Demers, Olivia Jackson, Rob Leaño
Excellence in Research: Zeina Cabrera-Peterson
Abe Chanin Award for Excellence in Sports Reporting: Alex Eschelman
Donald Still Award – Arizona Daily Wildcat: Marissa Heffernan
J. Y. Bryan Prize for Interpretive Photography: Sofia Moraga Franco
Excellence in International Journalism: April Lanuza, Kristan Obeng
Innovation Award: Rocky Baier, Ava Garcia
Excellence in Broadcast Journalism Award: Carsyn Currier, Sascha Fruehauf, Vanessa Ontiveros, Ambur Wilkerson
Excellence in Science and Environmental Journalism: Dominika Heusinkveld, Nina Kolodij
School Media Award: Nels Bergeron, Nick Meyers
Jack Sheaffer Award for Outstanding News Photography: Griffin Riley
Diversity in Reporting Award: Phillip Bramwell, Erin Thomson
Certificates of Merit: Maddie Bullington, Shannon Fojtik, Victor Herrera, Tommie Huffman, Rob Kleifield, Jamie Maese, Alana Minkler, Gabby Mix, Teagan Rasche, Haille Saal-Khalili, Shayne Tarquinio, Tori Tom, Madeleine Viceconte, Alexis Whitaker
Kappa Tau Alpha: Rocky Baier, Katelyn Caldwell, Victor Herrera, Elizabeth Humston, Alisa Ivanitskaya, Meredith O'Neil, Teagan Rasche
Those receiving previous awards the last two semesters were:
Mark Finley Gold Pen Award for best beginning newswriter: Fall 2018: First – Pascal Albright. Second — James Parisi. Third — Jamie Donnelly. Spring 2019: First — Quincy Sinek, Aiya Cancio, Seth Markowski. 
Drew Gyorke Photojournalism Contest: Fall 2018: First – Kasey Adrian. Second — Alana Minkler. Third — Karyme Cuadras. Fall 2019: First — Marisa Latzman. Second — Rebeca Moreno. Third — Lexi Horsey.
Those receiving scholarships were:
Arizona Daily Star Scholarship: Jamie Donnelly
Edith Auslander Scholarship: Pascal Albright
Concerned Media Professionals Scholarship: Meredith O'Neil, Nick Trujillio
Bernice Cosulich Scholarship: Tommie Huffman, Rebeca Moreno
D.C. "Darn Cat" Scholarship: Priya Jandu, Maya Noto
Steve Emerine Scholarship: Meredith O'Neil
Richard Gilman Scholarship: Alana Minkler, Sofia Moraga Franco
Hank Hubbard Scholarship: Alec White
Peggy Daum Judge Scholarship: Rocky Baier, Alec White
Donovan M. Kramer Sr. Entrepreneurial Scholarship: Airday Sued
Douglas D. Martin Scholarship: Nina Kolodij
William Milburn Memorial Scholarship: Nina Kolodij
Lois R.Nelson Scholarship: Ireland Stevenson
Sandra Ann Kelly Ramirez Memorial Scholarship: Alana Minkler
John Ruby Scholarship: Sascha Fruehauf
Society of Professional Journalists Scholarship: Jesse Tellez
Frank O. Sotomayor Scholarship: Pascal Albright
Lois Whisler Scholarship: Tommie Huffman
Past Just Desserts